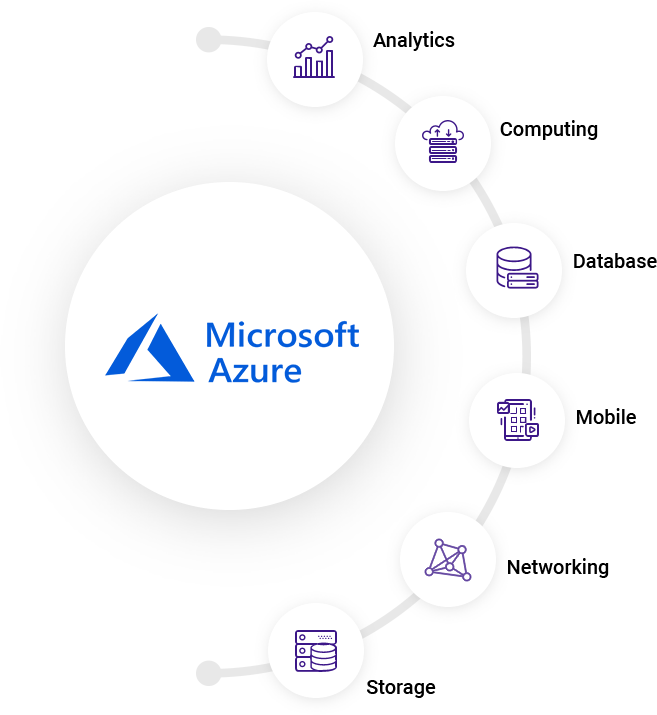 About Microsoft Azure
Used by developers and IT professionals, Microsoft Azure is a growing collection of integrated cloud services. It is used to build, deploy, and manage applications via a network of data centers across the globe. In simpler terms, Microsoft Azure is a collection of integrated cloud services that includes everything right from analytics, computing, database, mobile, networking, storage, and to the web that helps organizations in accelerating their growth rate while keeping in pace with agility and cost-effectiveness of business operations.
Azure integrates cloud and on-site with consistent hybrid cloud capabilities to optimize portability and value from existing investments utilizing open-source technologies. It has 100+ services with a great end-to-end tool that helps in making any business successful. With Microsoft Azure, businesses can protect their data, extend the existing IT infrastructure, make smarter decisions, use an open and flexible cloud service platform, run apps anywhere and scale as per need and can avail pay as you go services.

About the Partnership
Krish Compusoft Services is a certified Microsoft Azure partner which has been pledging incessant Azure services to its discrete clientele since 2012. Started then as a Microsoft gold partner today KCS has many other accolades of Microsoft added to its services. At present we have Microsoft Gold Application Development, Microsoft Gold Collaboration & Content, Microsoft Silver Cloud Platform, Microsoft Silver Data Analytics & Microsoft Silver Data Center level in partnership.
Why Your Business Needs Microsoft Azure Services
Business Intelligence
Microsoft cloud computing services aid in getting a deeper insight into your results, to keep track of trends as they occur. With modern business intelligence, the enterprise will understand and act on data quickly.
Big Data Analytics
With Azure businesses can analyze the huge amount of data in real-time and thus can deliver better experience and aid in making better decisions too.
Data Warehouse
Azure provides data warehouse solution that can scale on-demand and pause when not in use. It can also manage exponential data growth across all data forms, secure access to the data, and deliver true business transformation predictive analytics.
Devops
Businesses can create customized experiences based on customers' interests and behavior. This ultimately reduces time to market with cloud services, tools and DevOps that are committed to delivering mobile solutions.
Digital Marketing
Businesses can easily develop and deploy digital campaigns that will automatically scale according to consumer requirements. One can analyze and boost the efficacy of campaigns using the help of data analytics.
eCommerce
With Azure, eCommerce companies can quickly Engage consumers through tailor-made offers and deals, process transactions easily and safely, and concentrate on customer support and fulfillment.
Development and Test
Azure helps to quickly create consistent development and test environments through scalable and on-demand infrastructure.
Backup and Archive
Aids to extend the on-site backup storage and data archive technologies securely to the cloud reducing costs and complexity while at the same time ensuring performance and scalability.
Disaster Recovery
Azure provides disaster recovery for all your major IT systems without the expense of secondary infrastructure.
SAP on Azure
Across the most robust cloud platform, easily deploy SAP systems through dev-test and production scenarios providing exceptional efficiency even for the largest SAP workloads.
SharePoint on Azure
While you host your SharePoint farm on Azure, you can rapidly scale on demand and can thus save on infrastructure cost. Azure in Sharepoint is open for workloads right from development, testing, staging, production to disaster recovery.
Key Microsoft Azure Services
Data & AI

Azure SQL- Migrations and Upgrade

PowerBI/ embedded

Azure Paas (SQL Managed Instance)

Azure Analysis Services

Cognitive
Iaas

Virtualization

App Services

DevOps

DC/DR- Backup (Data Center and Disaster Recovery)
KCS Capabilities on Microsoft Azure
We at KCS are committed to render best in the class cloud computing services to our clients using Microsoft Azure. KCS provides consultation for Azure key infrastructure services that include:
Integration Of Azure with On-Premise network
Windows Virtual Desktop
Storage On Azure
App Service
Virtual Machines On Azure
Azure Cosmos DB
Back up as a Service on Azure
Machine Learning
SQL Server as a Service with Azure
Azure Kubernetes Service (AKS)
Websites on Azure
BI Consulting services
KCS aids organizations with Azure cloud enablement with 'Lift, Shift and Manage' service offerings meant to address five workloads that are:
Application Platform
DevOps (Dev/Test/UAT) Infrastructure
SQL & Data Storage
Active Directory Identity and Access
SharePoint & Web Farms