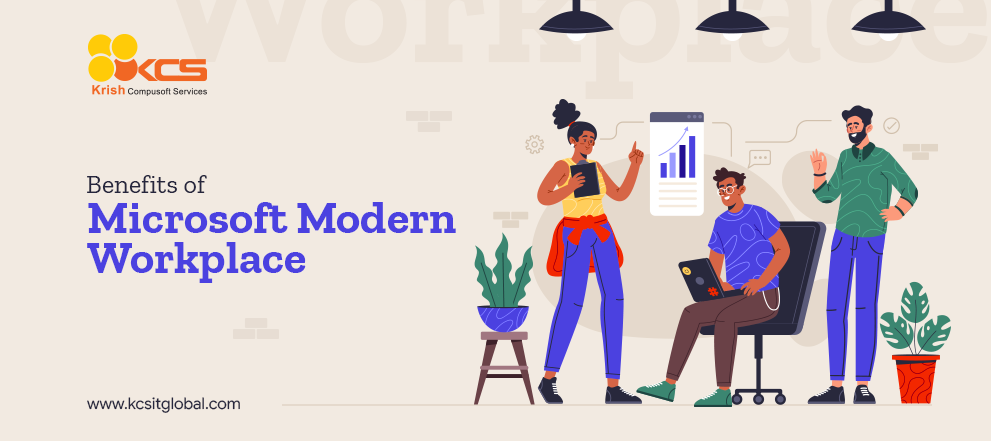 Category:

Hi-Tech
Benefits of Microsoft Modern Workplace
Over the last two years, the way people work has drastically transformed. Due to the COVID-19 pandemic, the workforce has become more flexible and geographically distributed. With the rise of dispersed, mostly remote teams, enterprises must equip themselves with all-inclusive tools allowing effective collaboration among all team members. This new approach to employee and work management is inevitable.
Gartner noted that "Remote work" is now just "work' in its report - The Top 8 Security and Risk Trends We're Watching. Also, as per the 2021 Gartner CIO survey, 64% of employees are now able to work from home and more than 75% of knowledge workers expect hybrid work environments in the future. With this trend, it is crucial that enterprises must secure and protect their data and assets to provide a safe digital workplace to their employees working from anywhere. Microsoft Modern Workplace solutions offer a secure environment that allows enhanced collaboration, streamlined communication for hybrid teams. Despite where employees work, they can have easy and secure access to the tools, apps, conversations, documents, and resources that they need to stay connected and get the job done.
What is Microsoft Modern Workplace?
Businesses need their employees to work from anywhere and be able to connect and collaborate smoothly. Modernizing a workplace using Microsoft tools can help an enterprise to better engage with employees irrespective of their work location, by enhancing communication and collaboration, while driving employee productivity.
Digital workplaces, powered by Microsoft tools and technology, provide a safe and reliable environment for the hybrid workforce to share sensitive data across the boundaries of the enterprise. These solutions help enterprises in transforming and stabilizing their business while managing the complexity of hybrid workforce, helping teams to stay productive from anywhere, collaborate seamlessly, communicate on the go, exchange information, documents and more through secure digital workspaces.
What does Microsoft Modern Workplace include?
Microsoft provides the necessary applications and infrastructure to create superior employee experiences in the form of a fully digitized modern workplace.
Microsoft Business Voice
Enterprise Mobility + Security
Microsoft Teams
Microsoft Office 365
Azure Active Directory
One Drive
Collaboration
Exchange
Microsoft Power Automate
SharePoint
Power BI
Windows 10 Virtual Desktop

What type of security does Microsoft Modern Workplace offer?
Cloud technologies play an important role in enabling modern workplace solutions. But hybrid, multi-cloud systems are more vulnerable and expand the attack surface as more users connect through unsecured networks. Azure Security Center and Microsoft Defender offer robust security from worms, trojan horses, and several other types of malware to protect enterprise data and assets from malicious access, both on-premise and in the cloud.
In the latest version of Microsoft 365, maximum security was at the top of the feature list. New cybersecurity tools were developed to help enterprises in creating secure environments with the help of a tightly integrated set of security technologies that include:
Azure Security Center
Windows Defender Advanced Threat Protection
Azure Advanced Threat Protection
Office 365 Advanced Threat Protection
Office 365 Threat Intelligence
Benefits of Microsoft Modern Workplace
1. Maximum security. Guaranteed!
Microsoft full-stack security models assure that only authorized users could access your environment. Microsoft 365 holds a wide range of features like Microsoft Defender, End-Device Protection and Multi-Factor Authentication to assure the security of your digital workplace.
2. User-friendly experience:
Successful enterprise operations are aided by access to all the tools required and their ease of use. Using Microsoft 365 and the Modern Workplace, users can locate all the requisite resources in one centralized place. This user-friendly interface enhances employee productivity.
3. Scalability:
The digital workplace can be designed to scale with your growth. Microsoft's subscription and licenses are flexible and easy to scale up. You pay for only what you need or use – it could be cloud storage or Teams users. As the enterprise evolves, you can adapt and choose from various subscription plans.
4. Flexibility:
Storing data in the cloud allows easier file access and sharing among various devices and teammates in different locations. Also, you can switch from various tools like instant messaging to file sharing and video calls with ease.
Why choose KCS to enable your Modern Workplace?
At KCS, we optimize our clients' Microsoft technology investments with our Microsoft Modern Workplace solutions. As a Microsoft Gold-certified partner, we benefit from early access to exclusive resources and product information. Our team is constantly in touch with the latest Microsoft product developments and future direction and use this knowledge to design future-ready solutions for our clients.
KCS helped a global petrochemicals service provider, AmSpec to streamline and enhance their document sharing process. Experts at KCS leveraged Microsoft tools such as SharePoint, Office 365, eDoc for email integration to create a document sharing and tracking tool for the Training Admin. Special features included the ability to track which recipients had gone through the shared document and send automated reminders to those who had not read the documents in predefined timeframes. This was a very useful solution for internal training delivery and learning outcome assessment.
Conclusion
A paradigm shift has occurred in where and how employees will work and engage. In this new scenario, the workforce is expected to connect from anywhere. Our solutions aim to create great employee experiences, with all the required tools, channels and documents stores, integrated into an end-to-end workflow, accessible 24/7. KCS can help you leverage evolving technologies that are part of the Microsoft Modern Workplace portfolio, to enable your employees to work safely, from anywhere, on any device.

Recent posts
March 30, 2022

November 04, 2021
Articles
February 02, 2022

November 15, 2021
Global Presence
For 360o business innovation across the globe, get in touch!