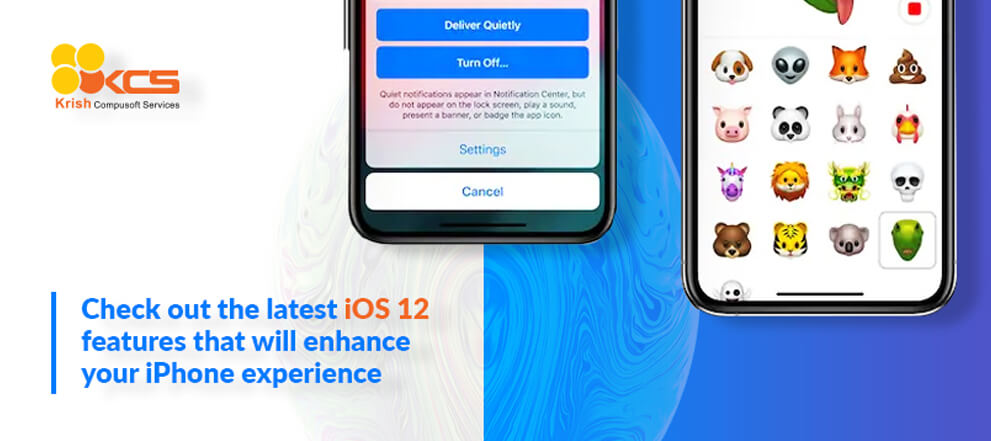 Category:

Hi-Tech
Check out the latest iOS 12 features that will enhance your iPhone experience
After waiting for such a long time, the final version of iOS 12 is officially here and available for download. With iOS 12, Apple has launched a lot of cool and new features – you might want to check now! From app updates to the New Memoji, here are some latest features of iOS 12:
1. 70 New Emojis
Apple declared that it's bringing 70 new emoji to the iPhone with iOS 12.1 update. Particularly, emoji with red hair, grey hair, curly hair, and even no hair. There are more selective smiley faces, and representation for food, sports, and animals.
Apple claims that the new emoji are based on the approved characters in Unicode 11.0. It is working on more disability-themed emoji. You can add it to your iPhone keyboard through Unicode 12.0. Apple will release it in 2019.
2. ARKit 2.0
After releasing ARKit with iOS 11 last year, iOS brings a new version – ARKit 2.0. It delivers better face tracking, realistic rendering and support for 3D object detection. It also supports shared experiences with multi-user augmented reality. You can now play AR games against other users in the same virtual environment.
3. Group FaceTime
Recently trending on the iOS 12.1 beta, Group FaceTime enables you to chat with up to 32 people at the same time. It is now integrated with iMessage. Thus, you can smoothly set up group FaceTime call with the iMessage group chat window. You can also add fun effects like Memoji and stickers while on the FaceTime call.
This feature works on the iPhone, iPad as well as Mac. Apple Watch users will be able to answer through FaceTime Audio.
4. Siri Suggestion
With the all-new iOS 12, Siri can now adapt to your behavioral patterns using artificial intelligence. Whenever you use the Spotlight Search tool, you will always see suggestions show up below. The suggestions differentiate depending on what you've been doing on your device – it can vary from returning a missed phone call to texting a friend back. Tapping on the suggestion will directly open to the specific task. The more you use iOS 12, the more Siri will give you suggestions on daily basis.
5. Animoji and Memoji
The iOS 12 also brings a lot of fun Animojis – particularly the ghost, tiger, koala and Tyrannosaurus rex. There is also the most awaited feature that allows you to add a tongue or a wink to any Animoji.
6. Redesigned Maps App
Let's experience improved Maps with iOS 12. Apple is making vital changes to its Maps by adding more detailed maps with public landmarks and greenery. Currently, the feature is only active while looking at the San Francisco Bay Area on the app. Soon it will roll out in Northern California in the fall. Also, it is making its way across the United States over the next year and a half.
7. Grouped Notification
Instead of seeing a huge list of notifications, iOS 12 now groups them for you. It groups the notifications not just by the app but also by topic and thread. You can tap and see a particular notification and then delete an entire thread with a single wipe.
Also, you can tune your notifications! You can decide whether you want the notifications of a particular app in the future or you want to bypass the lock screen. Siri will even suggest which ones you should turn off depending on the patterns of the app you don't use regularly.
8. Measure App
Measure App allows you to easily get direct measurements of any objects around you. You can tap the object and drag out a line to get a measurement right on your screen. You can also expand the measurements by tapping along the edges and dragging down. You can also tap an object like a photo, and the good news is the app will automatically detect the measurements with a complete dimension.
9. New AR File Format
Apple wanted to make the easy experience of augmented reality with a new file format called USDZ. It partnered with Pixar to develop USDZ. It is an open file format. It allows the developers to create and generate 3D augmented reality assets, with a single and compact file format.
10. Other Features:
With the latest iOS 12, Apple has also added many other features too. They include:
Siri Shortcuts
Improved Face ID
Easy-to-use App Switcher
Improved Selfies with iOS 12.1
Improved Portrait Mode
App-Level Data Use Information
Improved Screenshots
Improved QR Code Reader
Battery Management Information
Better Password Management
Management of Screen Time
Do not Disturb at Bedtime
Take Away
So, we have already seen that with the launch of iOS 12, Apple has introduced many new features that will uplift the experience of the users on the whole. iOS 12 focuses primarily on performance and stability. It is smoother and faster. Also, it simplified many things from the developer's perspective as well.
With all these trending features, you are now all set to explore and experience the journey of technology to the next level.
Recent posts
March 30, 2022

November 04, 2021
Articles
February 02, 2022

November 15, 2021
Global Presence
For 360o business innovation across the globe, get in touch!