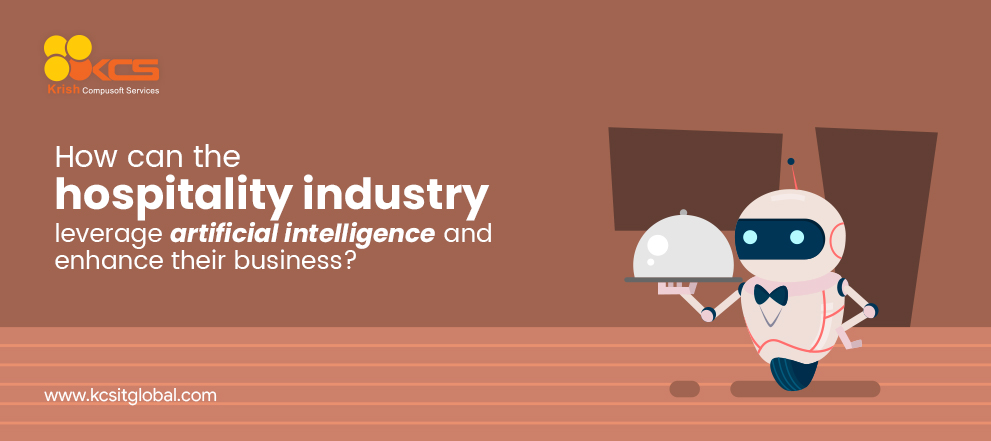 Category:

Hospitality & Leisure
How can the hospitality industry leverage artificial intelligence and enhance their business?
In today's competitive world, industries that stay determined to incorporate modern technological revolutions are most likely to regress in their course of development. Enterprises all over the world have realized how important it is to integrate contemporary technology to enhance growth and revenue. With the increasing demand for smart automation of existing operations, AI has finally entered into the traditional hospitality industry to increase hotel revenue, drive profit, and take customer experience to the next level.
Same like other business sectors, the hospitality industry is also dependent on various solutions all-driven by intelligent chatbots and voice-enabled services. To fulfill changing consumer expectations, hotels all across the globe should upgrade their services by incorporating intelligence-based predictive analytics into their business.
With the invention of chatbots, hotels are transforming the process of handling booking inquiries and visitors are converted into patron customers. The front-desk hotel staff that is normally liable for managing booking-related queries can be replaced with conversational bots. These intelligent chatbots are programmed to create simulated conversation via text or voice in the native language, enabling controlled, concise and effective interactions between human and computing machines.
The motto behind establishing intelligent hotels
Having an intelligent hotel that exceeds customer's expectations is a common strategy many hospitality leaders conjure. What adds viability to this concept is the idea of making it all advanced with AI-powered care, support, and services. Several elements make hotel intelligent, such as:
Concierge robots
Voice-powered services
Travel experience enhancer
Online assistance
Automatic data processing
Let us understand how the hospitality industry can make the most out of Artificial intelligence services
Since the inception of the artificial intelligence system into the hospitality industry, the sector is impressed with AI's ability to learn about customers with the help of a data analytics platform that guides hotel staff create a better frame for customers. Leveraging the complete potential of artificial intelligence solutions, they can gather a wide range of information about:
Customer purchases
Payment methods
Journey patterns and itinerary
Travel choices
Hotel rating inquiries
Location preferences
The gathered information can later be converted into offering an insightful experience to hotel guests as they travel, inquire, stay, and enjoy the luxurious hotel amenities.
AI-powered janitors for outstanding customer experience
A lot of hotels these days have recognized that in-depth customer services using properly harnessed customer insights is the key to enhance their brand value. This is the reason why there is a sudden change in mature-services hotels wherein customers are not only regaled with hotels' interior charm but also equally satisfied with AI-powered janitor services. In the last couple of years, the hospitality industry has managed to feel comfortable with voice assistance on the go as well as home, filling the gap between machines and humans. The sector, therefore, perceives artificial intelligence in the form of small hotel janitors.
Comprehensive care with mobile apps:
Customers prefer absolute control and flexibility and feel attached to securing their comfort level at hotel premises. As a part of special privileges, many hotels treat their customers using smart controls as they arrive. A dedicated mobile application enables customers' stay, offering the facility to unlock their room, control room temperature & operate curtains, order drinks, and lot more with their smart mobile phones. Here, AI-powered chatbots play a vital role to enhance customer experience. Guests can use hotels' special mobile devices to interact with chatbots to execute various tasks like:
Suggesting special dishes
Ordering meals and drinks
Answering critical queries
Recommending nearest sightseeing and visits
Scheduling dinner/lunch
Managing evening reservations
Controlling room temperature and lighting
Intelligent travel companions:
Lately, travelers have been involved and ask for a great mixture of high-grade personalization and exceptional serviced standards on the go. On the contrary, hotel operations can get complicated because of heavy amounts of data about visitors, and hotel staff, this results in critical challenges related to flawless customer experience. This is where intelligent travel phones can come handy. As soon as a customer enters his/her room, they can avail AI-powered phones that provide outstanding features like:
Gamification and amusement
GPS capabilities
access to unlimited data and international call
AI-enabled built-in hotel apps
Promotional offers
Quick access to hotel service assistance
A travel guide to city attractions
Bottom line
Intelligent Automation Consulting is delivering a new level of exquisite sophistication to the hospitality business and once again is creating everything, from top to bottom, more efficient. In the world, where leading hotels have committed to harnessing the true power of advanced analytics, we still have enough opportunities for enhancing the guest experience. If you are a startup in the hospitality sector or a popular hotel and planning leverage artificial intelligence solution into your business, then KCS is the best place to get it done. Since the last two decades, KCS is helping enterprises in automating various operations of their business. Their years of experience and the best consultation have helped many organizations in incorporating cutting-edge technologies into their business.

Recent posts
March 30, 2022

November 04, 2021
Articles
February 02, 2022

November 15, 2021
Global Presence
For 360o business innovation across the globe, get in touch!