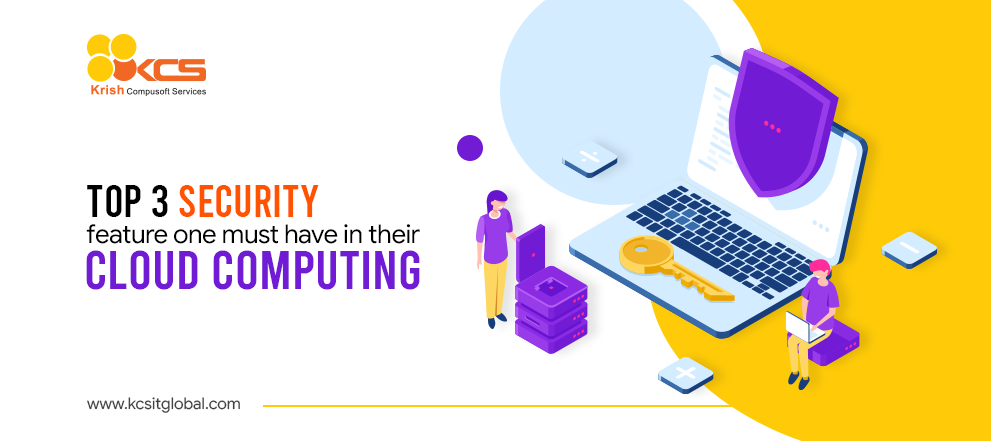 Category:

Hi-Tech
Top 3 security feature one must have in their cloud computing
What is cloud security?
Cloud security refers to the set of strategies and practices for protecting sensitive data and applications that are hosted in the cloud. Same like cybersecurity, cloud security is also a broad term, and it is never possible to secure all types of attacks. However, a well-structured cloud security strategy can immensely reduce the risk of cyberattacks. Even with these risks, cloud computing is more secure compared to on-premises computing. Most cloud security providers have more resources than individual businesses do to keep data secured. This lets cloud providers keep infrastructure up-to-date and patch vulnerabilities quickly.
What are the primary cloud security risks?
Most of the cloud security risks fall under one of these categories:
Data leakage or exposed
An unauthorized user gets access to the organization's internal data
An internal or authorized user has too much access to the company's internal data
A malicious attack like DDoS attack or malware infection or destruction of cloud infrastructure
The three primary types of cloud environments

1. Public cloud:
Public clouds are hosted by third-party cloud providers and are accessible to different enterprises via the internet on a pay-per-use model. This type of deployment model offers various services and infrastructure to businesses that want to save money on IT operation costs, but it is the responsibility of cloud providers to create and manage the resources. Public cloud service is perfect for small as well as medium-scale enterprises with a tight budget needing a quick and simple platform in which to deploy their IT resources.
Benefits of public cloud:
Cost-effective
Easy to manage
Highly reliable
Easy scalability
No geographical restrictions
2. Private cloud:
This type of cloud deployment model is a personalized infrastructure owned by a single business. It gives a more controlled environment in which access to IT resources is centralized within the organization. The private cloud model can be externally hosted or controlled in-house. Even though this type of model can be expensive, for big enterprises, it can render a higher level of security and enhanced autonomy to personalize the storage, networking, and compute components to meet their IT needs.
Benefits of a private cloud:
Customizable
Enhanced security level
Higher control over the server

3. Hybrid cloud:
For enterprises seeking the advantages of both private and public cloud deployment models, a hybrid cloud environment is the best option to choose from. By linking both the models, a hybrid cloud model offers more bespoke IT solutions that satisfy an enterprise's needs.
Benefits of hybrid cloud
Increased security
Cost-effective
Highly scalable and flexible
Top 3 security features every enterprise must include in their cloud computing ecosystem

1. Data encryption:
Encrypting the data is stored on the cloud is one of the most effective ways to keep your sensitive information secured from being accessed by unauthorized users. Strong encryption can reduce the risks of stolen data being used against your own organization or your customers before you get any chances to alert them so that they can take necessary security measures. It is better to notify customers than to let hackers profit off of the stolen data immediately.
2. Internal firewall for individual applications and databases:
Having a strong perimeter firewall can restrict external as well as internal attacks as they are still a major threat. Enterprises that do not have an internal firewall to block access to sensitive data and applications are not considered secure. For instance, a compromised employee user account can allow hackers a way to bypass the perimeter firewall almost entirely. Or, an unhappy employee having a valid account may try to take advantage of their access privileges. In each case, internal firewalls that keep all apps and databases detached can help to reduce the damage an attack from the inside can do.
3. Tier IV data centers with powerful physical security:
The physical hardware used to run a cloud environment depicts one last opportunity for attackers and individual spies to steal your sensitive data. When given direct access to the hardware that runs the cloud, these spies can have free power to steal data or upload malware into your system. Tier IV data centers help secure cloud environments by blocking access to the physical systems that run the cloud environment. A secure Tier IV facility will use measures like:
Armed security personnel
Controlled access checkpoints with biometric security controls
These security measures are essential to keep unauthorized users from directly accessing the hardware that runs your cloud.
Conclusion
Apart from the above-mentioned cloud security services, an enterprise should also have a top-notch perimeter firewall and intrusion detection systems with event logging into their cloud environment. Cloud computing is a confusing methodology that is rapidly evolving on how computing is done. When several organizations started adopting cloud computing services in 2005 and 2006, some cloud security services providers gained an early lead. For the enterprises that are looking for world-class cloud security solutions, KCS is the best place to get it. With more than 20 years of experience and expertise, KCS has helped enterprises of all sizes to integrate cloud technologies into their business.

Recent posts
March 30, 2022

November 04, 2021
Articles
February 02, 2022

November 15, 2021
Global Presence
For 360o business innovation across the globe, get in touch!