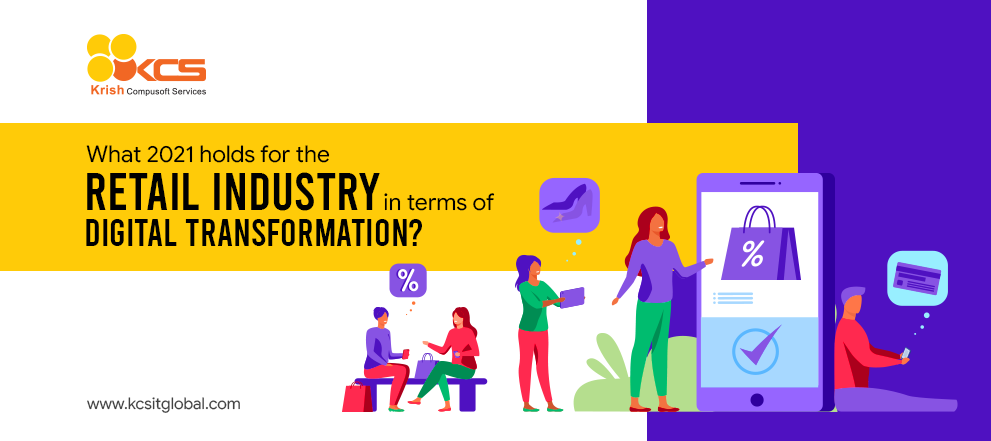 Category:

Retail / FMCG
What 2021 holds for the Retail Industry in terms of Digital Transformation?
The 21st century is considered the digital age, this means more and more businesses are going online for the first time, or growing their retail offerings that cater to customers' demand. But the truth is that the retail industry has been expanding for decades. It presents a challenge for newcomers to the market, or companies that have aimed more on their brick-and-mortar presence than their online one: How can small brands compete with the giants and veterans of the retail sector?
The answer to this will be investing in the right technologies that will deliver them a serious boost and guide them to compete on the same, level playing field as the big companies. With 2021 right around the corner, here are the retail digital transformation trends that are growing to dominate the industry – and the brands of all sizes must be looking to adopt as soon as possible.
Top 5 Retail Digital Transformation Trends in 2021
Some of these technological trends we are anticipating for 2021 are new, whereas others have been rising and growing for years. But one thing we must note is that these being the trends growing brands to the top of the retail industry, guiding them out-sell their competitors and paving the way to online success.
1. Shoppable TV:
With Shoppable TV, history is about to repeat itself. One of the first eCommerce transactions ever recorded happened in 1984; when 72-year-old Jane Snowball in the UK used her TV to buy corn flakes, eggs, and margarine from the local Tesco. Now, Shoppable TV is a growing retail trend; but it looks a whole lot different than it did back then. If you have a subscription to Hulu's ad tier, you might have already seen this. Ads with QR codes, and interactive ads for Smart TVs that viewers can maneuver with their remotes or smartphones.
The reason this is so successful is it cuts out a step. Earlier, viewers who saw a TV commercial for a particular product they wanted required to search out that product on another platform before they could buy. But now, they can purchase directly from their TV sets when the ad is popped.
2. AI customer sourcing:
Today, Artificial intelligence (AI) is no concept of science fiction, and retailers are coming up with new and creative ways to leverage it for several years. AI is already helping retailers in making personalized product recommendations and answer customers' queries, and guide them to visualize products before making a transaction. In 2021, we anticipate the biggest trend for how retailers will leverage AI will be in customer sourcing. This means it will help retailers find the most valuable customers to advertise to.

Today, customer reach contains a lot of manual processes for data gathering, crunching, number, report generation, and graph making. Soon, AI will be able to manage most of those steps with the help of intelligent algorithms to analyze market trends and your product and sales data to show you the right communities, prices, sales channels, listing times, and increase sales.
3. Advanced product personalization:
With this trend, we look at one of the biggest and successful eCommerce retailers, Nike. For some time now, Nike customers are allowed to use the company's website to personalize all the aspects of their shoes and sneakers, right from colors to materials to texts. Product personalization is nothing new, but it is becoming more successful even for small companies that do not have Nike resources.
3D printing is becoming a common and affordable part of manufacturing, which enables more and more retailers to be able to personalize items towards the end of the manufacturing process at the scale and without any extra costs. As 3D printers have become more affordable, we predict advanced customization to take off across various industries to personalize almost everything they purchase.
4. Payment flexibility:
A trend that has been rising for several years is customers' need for payment options aplenty. In the digital era of retail, customers often make online payments via debit/credit cards, online fund transfers, platforms like PayPal, mobile wallets, etc. Today's consumers want as much flexibility as possible to select the payment option that makes the buying process fast and smooth for them. In addition to accepting various types of payment, retailers in 2021 should be prepared to leverage growing popular "buy-now-pay-later" options that offer funds for purchase to the retailer upfront along with enabling the customer to pay in installments over time.
Endnote
The digital age is far from over. The fact is, we have barely even scratched the surface of retail technology trends that are yet to come. Retailers should prepare themselves for whatever new technology trend comes with each coming year. For those retailers who are planning to upgrade their business, KCS is the best place to get personalized digital transformation consulting. For the last 20 years, KCS is helping their customers from all over the world in integrating cutting-edge technological solutions in their business.

Recent posts
March 30, 2022

November 04, 2021
Articles
February 02, 2022

November 15, 2021
Global Presence
For 360o business innovation across the globe, get in touch!