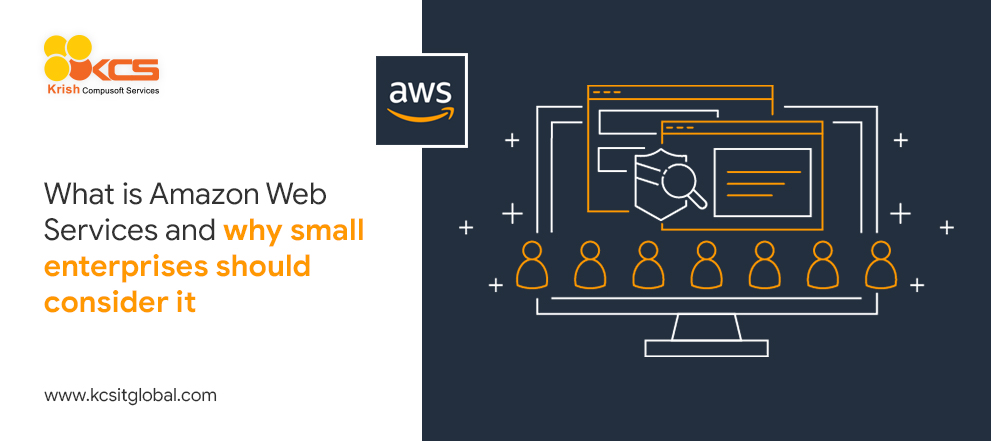 Category:

Hi-Tech
What is Amazon Web Services and why small enterprises should consider it
What is Amazon Web Services (AWS)?
Amazon Web Services (AWS) is a cloud-based platform that is used for establishing solutions for enterprises with the help of interconnected web services. It also offers a variety of pre-built services that can benefit organizations in building their custom cloud-based solutions. Right from big to small enterprises have trusted AWS because of the features and pre-built services it renders. It helps industry in a wide range of workloads like game development, data processing, development, warehousing, and much more.
In other terms, AWS is a dynamic and comprehensive cloud computing platform that contains a mixture of infrastructure as service (IaaS), platform as a service (PaaS), and software as a service (SaaS) offerings. AWS services can provide organization tools like compute service, database storage, and content delivery services. AWS was launched in 2002 from the internal infrastructure which was developed by Amazon.com to manage its online retail operations. AWS was one of the companies that introduced a pay-as-you-go cloud computing model that scales to offer users with computing, storage, or throughput as needed.
AWS renders various tools and solutions for businesses and software developers that can be used in data centers in up to 190 countries. Groups like government agencies, education institutes, private and nonprofit organizations can use AWS services. In 2013, AWS earned revenues of just over $3 billion which whoopingly increased to $25 billion in 2018.
Source: Google
How AWS works?
Amazon web services are divided into various services; each can be configured and used in different ways as per the user's requirements. Users should be able to see the configuration options and individual server maps for an AWS service. Data are shown by IDC's worldwide semiannual public cloud services spending guide states that small to medium-sized businesses will contribute 40% of the projected $141 billion in spending on the public cloud by 2019. Over the next few years, the dramatic growth in SMB public-cloud spending will be fueled by Amazon Web Services. It offers a flexible public cloud infrastructure through hosting services that contain:
Networking
Computing
Database resources
Storage
Email
Servers / Remote computing
Analytics
Mobile development
Security
Here are some of the reasons why Amazon Web Services for small businesses is a resource you should be using in 2020.
1. Reduction in infrastructure cost:
One of the biggest advantages of AWS is that you only need to pay for the resources you use. Hence, small businesses can remove hardware and administrative infrastructure cost. In addition, the management and system administration headaches and their costs are also wiped out, therefore, enterprise owners and workforce can focus on growing their business.
2. Running business via Cloud:
With the help of AWS' services like desktop virtualization and document sharing, organizations can literally manage their business through the cloud. Access to virtual desktop and PC with the help of digital devices means anytime/anywhere access to application, resources, and document easily and quickly.

3. eCommerce simplicity and flexibility:
For those with a robust eCommerce component, AWS for small businesses has a wealth of cost-effective solutions for online sales and retail. On the contrary to site hosting, this includes order-processing integration for smooth, effective, and powerful financial transactions with almost zero human interaction. Order can automatically be imported using the customer's chosen system connecting to Amazon Merchant account technology. This helps your business in updating orders and integrating that information into inventory tracking. Moreover, Amazon Web Services' software development kits (SDKs) for various platforms like Java, PHP, and Ruby render small business great eCommerce flexibility and agility to satisfy customers' needs.
4. Easy and efficient application hosting:
Hosting your mobile or web application via AWS means easy deployment, scaling, monitoring, and load balancing, capacity provisioning. Henceforth, a small enterprise can then use its application competently with minimum issues.
5. Flexible and cost-effective data storage:
Not only large but small enterprises to produce a large amount of data, and on-site management of storage is costly and complicated. But with AWS, organizations can have infinite and automatic scalability, only paying for the resources they use, and have no up-front costs for building a storage system.
6. Elite solutions for Mobility:
Using a mobile-app version of the AWS management console for IOS and Android devices, the small-scale organization can have easy access to their resources anytime/anywhere. The addition of other mobile services provides SMBs the potential to design and design feature solutions that target mobile devices.
Conclusion
Since its inception, AWS has played an integral part in making cloud computing available to small as well as large enterprises. It doesn't matter if you are looking for a sophisticated cloud solution to help with data analytics, mobile app, IoT infrastructure, or secure storage facility, AWS might have what you are looking for. Since 2019, KCS is an AWS select partner to offer cloud consulting, implementing, and managing services to enterprises of all sizes to automate their business operations and enhance their business efficiency and productivity.

Recent posts
March 30, 2022

November 04, 2021
Articles
February 02, 2022

November 15, 2021
Global Presence
For 360o business innovation across the globe, get in touch!