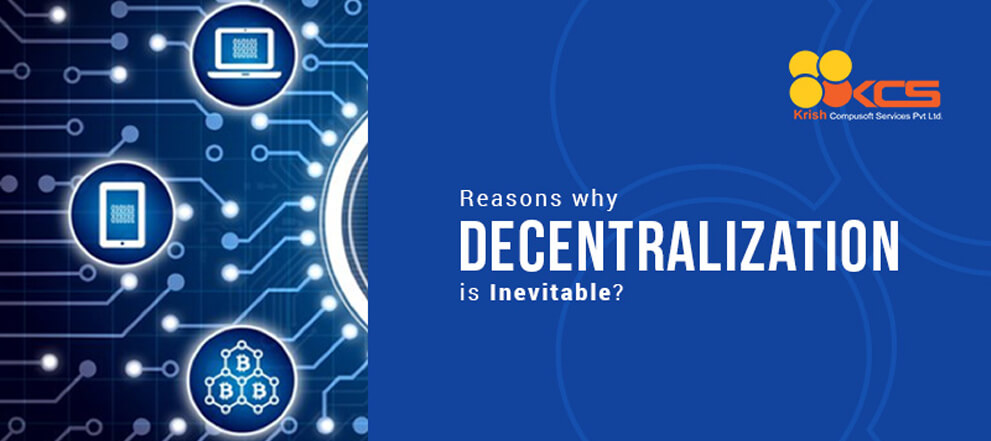 Category:

Education
Why decentralization is inevitable?
In this ever-rising techno-clad world, Decentralization is the main focus in the shift from pipes to platform. Pipe businesses depend on a centralized framework of value creation and exchange. The framework was built around a supply chain that were managed via contracts. With the advent of platforms, decentralization was seen in the value creation and exchange. Modern platforms share a common thing; they are scaled intermediaries that operate a decentralized framework of value creation and exchange.
The idea that the "revolution will be decentralized" is considered sacrosanct by the crypto-elite. Blockchains have gained interest from all over the world because of their exceptional promise of being an incorruptible ledger.
Blockchain can create a whole new model of platform intermediation. There are two main aspects of blockchain that make it of prime interest for the future of governance. Firstly, it renders a peer-to-peer network to govern interactions and transactions over a distributed community. Secondly, it manages this governance through a decentralized ledger that benefits from having a distributed computing infrastructure and a common protocol making it nearly impossible to create a fraudulent transaction.
For blockchain, decentralization is not just a buzzword, but more than that. It allows tactile improvements to our best technologies so that they serve the enterprise and customers in a better manner. The decentralized characteristic of the blockchain is a new way of looking at networking, and it addresses many of the most significant concerns for enterprises and their customers. The blockchain technology decentralizes its network by subverting the requirement for huge databases in a single particular location. Moreover, the blockchain disperses its ledger over hundreds and thousands of computers located all around the world.
Decentralized blockchains are very popular on global level because high security is ensured by enormous amount of mining resources. With more protection and high functionality, decentralized networking is poised to power the future of digital platforms, beginning with the present. Decentralization is an inevitable thing for any enterprise. It is a shift in thinking – that instead of central authority – the code of blockchain itself will set the game rules.
1) EXTREMELY STRONG SECURITY
If a blockchain is distributed across the world, it is almost impossible to wipe out the decentralized information it holds. The security is extremely high as compared to that of few centralized authorities.
2) FRAUD PREVENTION
In decentralized blockchains, fraud can be detected very easily. As they are open-sourced ledgers, every single transaction is recorded on them. Miners monitor and maintain the integrity of blockchain systems on everyday basis. This gives an enormous amount of oversight to decentralized blockchain-based cryptocurrencies. This makes them nearly invulnerable to fraud.
3) INCREASED FINANCIAL EFFICIENCY
Decentralized blockchains allow direct person-to-person transactions without the assistance of a third-party. This drastically improves the financial efficiency and enables people to be to be less reliant on financial institutions or banks. This feature of blockchain technology has appealed many people who desires improve their financial efficiency.
4) FASTER TRANSACTION TIMES
Blockchain-based cryptocurrencies provide much faster transaction times as compared to that of bank. Many organizations are potentially benefited with the quicker blockchain-based cryptocurrencies without losing the accuracy. If money flows quickly, moves can be crafted faster which ultimately leads to better and quicker decision making process.
Recent posts
March 30, 2022

November 04, 2021
Articles
February 02, 2022

November 15, 2021
Global Presence
For 360o business innovation across the globe, get in touch!