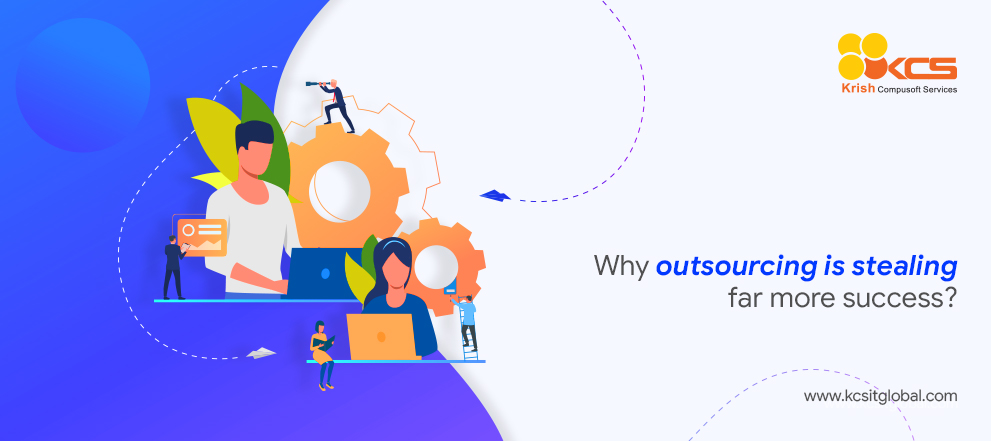 Category:

Hi-Tech
Why outsourcing is stealing far more success?
These days, outsourcing is the latest buzzword. More and more cost and quality conscious enterprises are turning towards outsourcing services.
Outsourcing can be defined as "the strategic use of outside resources to perform activities that are traditionally handled by internal employees in order to produce high-quality product". It includes the process of hiring another individual or company, either domestically or internationally, to handle business activities in a proper manner. In short, you can grow and develop your business as and when required without any major investments.

Below are the major reasons why outsourcing is stealing far more success!
Cost Optimization:
The foremost and the most obvious reason companies opt for outsourcing is due to its cost factor.. When you outsource your work you no longer need to invest in the recruiting and training expenses. For an enterprise, the cost efficiency is the most crucial factor for improved balance sheets.
"Lower Cost, Quality Product"
Is what the organizations actually search for! You can get your job done at a great quality and lower cost. Due to the difference in wages at different places in the world, you can get varieties of option to choose from according to the requirements of your work. Moreover, 60% of your cost is controlled when you outsource to countries like India. It ensures that low-cost doesn't mean low- quality.
Increased efficiency
Outsourcing can be a really good option if the functions of your enterprise are complicated in nature and the size of your enterprise doesn't allow you to accomplish the desired results by utilizing proper resources.
When you outsource your business needs to a reliable outsourcing partner, they would bring years of their experience, knowledge, understanding and expertise for delivering the complex needs and projects of your enterprise. This would lead to an exceptional increase in productivity and efficiency.
Access to Skilled Resources
Outsourcing service providers take utmost care of the needs of the enterprise and utilize their skilled resources in order to provide the best quality product or service to the enterprise. Resources employed by the outsourcing service providers are well educated in their respective areas and are highly experienced in handling the innovative business needs of the enterprise. It is commonly seen that people opt for outsourcing as a major source of their business in order to gain professional touch, credibility, and skills of an enterprise.
Flexibility
If you are looking for desired expansion and flexibility in working hours than outsourcing your work is possibly the best choice. Outsourcing your projects to a highly skilled and experienced enterprise can lead to customizable services and products. Similarly, outsourcing allows operations that have cyclical or seasonal demands to bring in additional resources when required. Thus flexibility is what you gain with outsourcing service providers. The only reason behind it is that you will enjoy high quality output by experts that would touch every professional need of your enterprise.
Focus on Core Reign:
Mostly, enterprises go for outsourcing services in order to focus more on other important and main operational activities of their enterprise. Outsourcing activities eliminate the extra time indulged in other activities and you can focus on the main project. Outsourcing reduces the burden of the operational work.
It would free your involved resources and enable you to focus more on productivity, effectiveness, building your brand, investing in research and growth, and helps you to focus on the core reigns of your business.
Saves Time:
A lot of efforts and procedures are involved in making any project successful. The enterprise has to meet several deadlines and complete a particular project within a specific period of time. It is likely that it would affect the quality of the product in haste.
Outsourcing helps in saving a lot of time by providing you the best at a much faster rate than the actual desired time frame. It helps the companies to achieve a goodwill in the market. Your ideas can be quickly converted into products and it better adds to the value of your company and brand identity. Outsourcing companies operate round-the-clock to get your work done.
Recent posts
March 30, 2022

November 04, 2021
Articles
February 02, 2022

November 15, 2021
Global Presence
For 360o business innovation across the globe, get in touch!