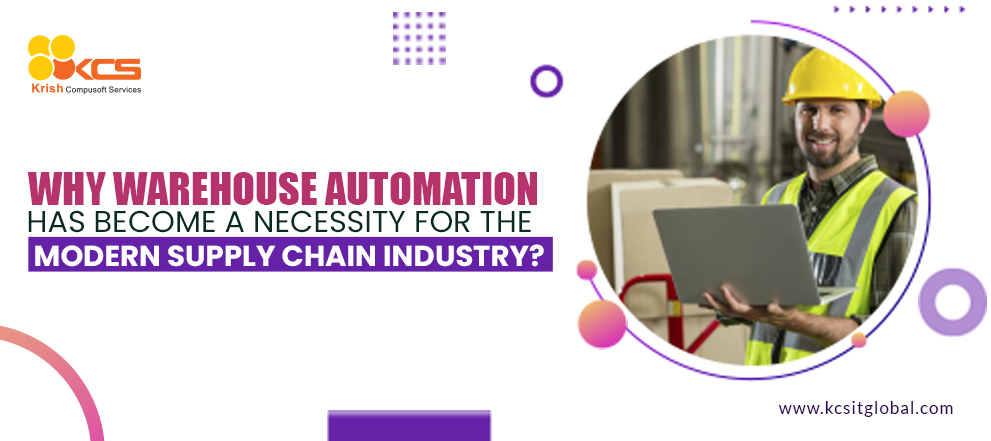 Category:

Hi-Tech
Why Warehouse Automation has become a necessity for the modern supply chain industry?
If you ask a layman to describe the storage or supply chain industry, they would probably implore images of the Terminator. With Amazon and Ocado making headlines for their robot-power warehouses, people are gaining the perception that robots are gradually taking over several warehouse jobs, and will soon be coming for the rest.
While the reality is much more different than it seems. Automation is making its way into more business verticals, and warehouses are certainly one of the prime candidates. But while the industry giants keep experimenting with robotics, several people further down the chain still don't acknowledge automation or question its value to them. So what is warehouse automation, and why more and more enterprises are implementing this technology in their business?
What is Warehouse Automation?
In simple terms, warehouse automation is exactly what it sounds like. The primary goal is to automate repetitive, laborious, time-consuming, or dangerous operations such as warehouse space, mitigating the issues that generally arise from the processes. With the help of robots or other autonomous vehicles, an enterprise can eliminate the factor of human errors almost entirely.
Automation technology solutions not only can drastically reduce errors, and hence damages, inefficiencies, and injuries - but also frees employees up for other tasks. One common misconception regarding automation is that it surely means human jobs are replaced by robots. While this is inevitably true in several cases, the aim of automation must be to mitigate the mental as well as physical burden caused by complex or repetitive tasks, and free workers for value-added jobs.
More often, automation is integrated with robots and autonomous vehicles, it can also refer to any operations that are automated. This can include the use of operations management systems or other software to automate aspects of the supply chain such as real-time inventory management, HVAC, and lighting control, or safety protocols and inspections.
Here are some of the stats that describe the significance of warehouse automation:
In a typical U.S. warehouse, approximately 68% of the total budget is spent on labor, this figure is estimated to grow by as much as 3% every year.
Hyster-Yale predicts that warehouse automation and robotics can drive a 70% reduction in overall operating costs.
What kinds of operations or tasks can be executed using automation technology solutions?
Loading and unloading
Picking and sorting
Inventory management
Back-office processes
Labeling and scanning
Data analysis & trends

What are the types of warehouse automation?
Goods-to-person technologies (GTP)
Automated storage and retrieval systems (AS/RS)
Autonomous mobile robots (AMRs)
Pick-to-light systems
Benefits of warehouse automation
1. Minimizes operational costs:
By automating your warehouse's operations and minimizing the time spent on manual tasks, you can minimize human error, which will eventually lead to cost savings. Simultaneously, by automating repetitive tasks, workers can now get to spend more time on other important processes, jobs, or tasks.
2. Enhanced productivity:
Automating processes will help your employees in increasing their productivity levels without having to increase the headcount. As a result, the output of your warehouse enhances, the safety on the work floor increases, and the processes will be easier and more attractive to carry out. The overall result will be optimized productivity levels and higher efficiency of human resources.
3. Better utilization of warehouse spaces:
Automation helps to minimize inventory stocking levels, including the associated space and capital needs. This result: the warehouse can maximize the utilization of space, flow, and layout. This space can later be used for more valuable tasks like increasing the capacity of the facility, enhancing the production line, or adding a new product line.
4. Improved inventory visibility:
Automated inventory management including data gathering and inventory transactions enables faster, more accurate, and efficient tracking. Moreover, it helps recover and reduce lost inventory, shrinking, and misplacement. Inventory automation is often done with the help of a barcode scanner and similar devices. All thanks to their ability to easily guide themselves through a facility, drones are generally deployed to automate inventory management.
Conclusion
There is an ocean of benefits of implementing warehouse automation into your supply chain business. With the help of real-time data about your operations and inventory, you can optimize your overall fulfillment process. This will not only lead to higher levels of productivity, accuracy, and efficiency, but it will also reduce your overall costs, establish a better work environment, and drive customer satisfaction. If you are looking for an experienced warehouse automation partner, KCS is one to talk to. The expert at KCS has been helping warehouse operators and manufacturers of all sizes gain efficiencies and boost revenue through a personalized approach of automation that focuses on your unique goals and needs.

Recent posts
March 30, 2022

November 04, 2021
Articles
February 02, 2022

November 15, 2021
Global Presence
For 360o business innovation across the globe, get in touch!