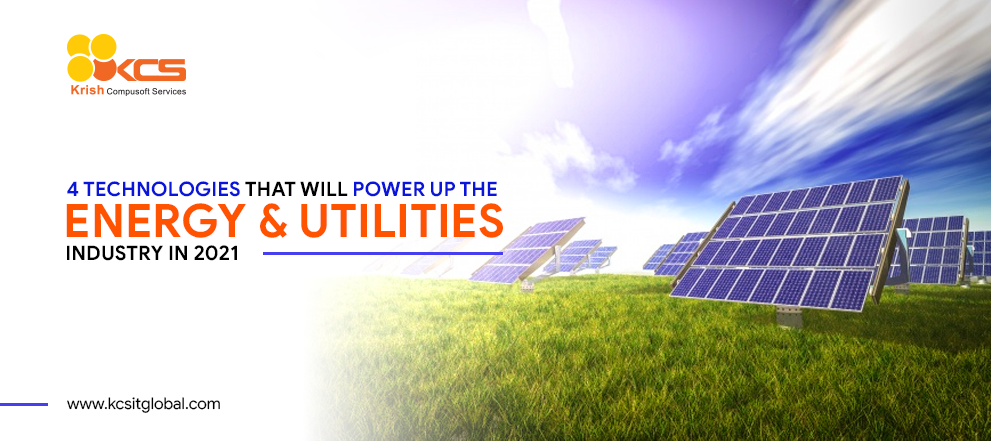 Category:

Energy & Utilities
4 Technologies that will power up the Energy & Utilities Industry in 2021
Connectivity proved to be a lifeline for most businesses in the year 2020. Cutting-edge technologies and tools have enabled remote working, learning, socializing, and shopping. The latest advancements in the technological sector played an integral part in helping to keep the world afloat during the global pandemic. Simultaneously, a lot of countries have started to take strides towards a net-zero target. In addition, UK's green recovery plan will be heavily dependent on green technology, especially when it comes to revolutionizing the energy industry.
The latest report states that tech giants such as Apple, Google, Microsoft, and Facebook are in a race to build a green internet. This means these firms are committed to power their company's initiatives and business operations via green energy. The report also states that these tech giants were graded A in the clean energy index. Bloomberg's research shows that the global investment in the cutting-edge tools for generating clean and sustainable energy has crossed $500 billion in 2020, with an increase of 9% compared to 2019.
Top Technology trends that will power the Energy and Utility industry
1. Internet of Things (IoT):
The way connectivity has played a vital role during the COVID-19 pandemic, IoT has also become an integral technology. There hundreds and thousands of IoT devices currently in operation all over the world, right from Fitbit and smartphones to smart homes and security systems. The applications of IoT are not limited to fun and handy gadgets. The technology has already been leveraged across various industries including education, eCommerce, and most certainly energy. IoT has helped in keeping the business intact by offering remote access maintaining unused buildings.
As the energy & utility sector evolves, the metering and energy management system will have to be flexible with it. This means all software must offer advanced connectivity, flexibility, and data analytics. A lot of customers these days are expecting the same smart digitalization from their energy management as in other aspects of their lives.

2. Artificial Intelligence:
Artificial intelligence (AI) is considered as a Swiss army knife for the future. Since it could be used in various industries, especially in the manufacturing sector – it has the capacity to enhance efficiency across businesses. AI in the energy industry is being used to predict wind power capacity and replacing high-risk jobs like surveying high voltage power lines. It is difficult to imagine a green technology that can be more transformational to human society than artificial intelligence.
3. Enterprise risk management (ERM):
Not only energy technology, but enterprise risk management is also assumed to take the center stage in 2021 after the revolutionary economic consequences of the COVID-19 pandemic. It is expected to collaborate heavily with carbon reporting and determining environmental, social, and governance risk factors. This means that entrepreneurs will be forced to engage more closely with ERM in order to assure their long-term survival.
4. Cloud Distribution Software:
Distribution software manages a wide array of critical business operations such as customer service, accounting, sales, and supply chain management. Migrating this software on the cloud makes the data and control easily accessible to any device that has an internet connection. Benefits like high security and accessibility make it hard to imagine that cloud distribution software will be gradually used this year in the energy industry.
Conclusion:
In order to stay intact, keep up with the continuous advancements, and increasing demand for clean and sustainable energy, companies have to look at their digital competencies. They have to invest, build knowledge, and join the competition for skilled IT professionals. At KCS, we take pride in being ahead of the curve in predicting both trends of the industry and our clients' needs. Hence, we offer robust and impactful digital solutions to our clients that are designed by keeping future technological advancements in mind. These solutions are capable to adopt new and emerging green technology.
Recent posts
March 30, 2022

November 04, 2021
Articles
February 02, 2022

November 15, 2021
Global Presence
For 360o business innovation across the globe, get in touch!