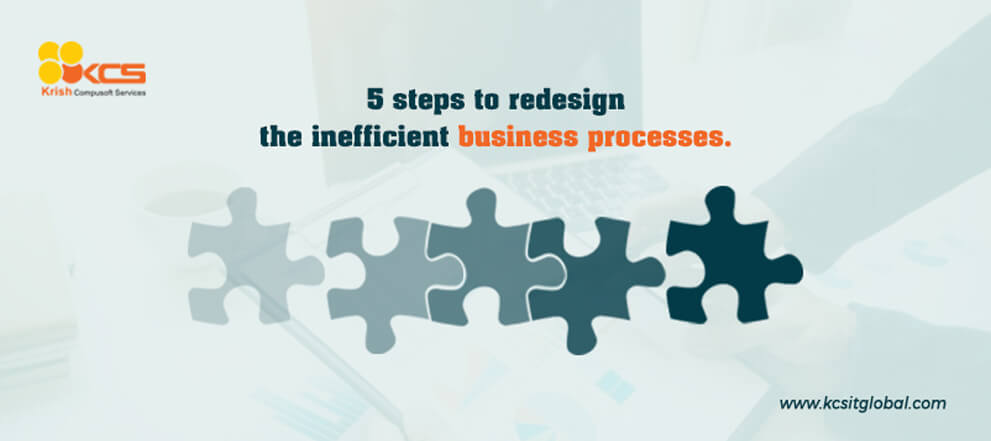 Category:

Manufacturing & Engineering
5 steps to redesign the inefficient business processes
With this constantly changing environment, it is very vital for organizations to continuously improve their business processes, increase automation as expectations change, adapt new technologies and emerge as the competition grows in order to stay afloat.
Business processes dictate how work gets conducted in every organisation. Over a period, as enterprises grow, and new technology is implemented, processes evolve along with it as well. If we do not monitor these changes, errors can creep in leading to processes becoming ineffective and broken.
Business Process Improvement (BPI) is the recommended practice that all enterprises must follow to improve their business processes continuously. This practice is vital for growing enterprises, even more so for businesses with flailing organisational problems. Here are the five steps you must perform to fix the inefficient business process:
1) Identify the Broken Process
The first step is to identify the business process that needs improvement. For this, you need to get familiar with all the business processes at work and how each of them impacts your organisation. For instance, if your company is not generating enough leads, then the process of lead generation or lead conversion might need a fix. If you have lots of unhappy customers, the issue could be in communication, customer service or the fulfilment process.
2) Analyse the Broken Process to Identify Problems
Once you have identified the process in need of a fix, you must map its entire procedure and analyse it step by step. Consider asking questions like:
What step in the process is significantly affecting the business goal?
What step is affecting the entire structure or other stages of the process?
What step in the process is causing roadblocks?
What step in the process requires more resources?
What step in the process is taking the most time to complete?
You can get your answers to these questions through surveys, audits, cause-effect analysis, etc.
3) Create Improvement Strategy
Upon completion of process analysis, and successful identification of problem areas, you must start working on the development of improvement strategy. Document the broken steps of the process, how they can be mended, why they need to be repaired, the implications they have on the enterprises' finance, resources, and overall business goals. Create new improvement strategy using principles of process redesign that consists of a more organised approach towards outcomes, reduced waiting times, fewer review checks, use of minimal resources to execute the process and many more. Map out a new design of the business process and analyse its implications on the business objectives. If the results are not at desirable levels, rinse and repeat with new variables.
4) Acquire Necessary Resources
Once you have finalised the strategy you want to implement, you must start working on acquiring the resources required to execute it successfully. Do your research to understand what resources are available in the market that will you most and how you can acquire them. Ensure you get complete support from the senior management team at this stage.
5) Implement the Redesigned Business Process
It is finally time to roll the new process out. It is in the nature of people to resist any change at first. So be ready for obstacles. You will need to educate the employees as well as senior management on the necessity of the change that the redesigned business process aims to bring. Keep your communication clear and solve any queries they may have. Doing so will help you bring them on-board with your plans quickly and execute the new process swiftly.
Once you have redesigned the inefficient business processes, you will be able to achieve your business goals efficiently. It will also result in happy customers, happy employees, and happy bosses! It is important to note that if even if something is working properly does not mean it cannot be improved upon. Business Process Improvement is necessary to bring about continuous improvement within the organisation.
What Steps do you follow in your organisation to fix any inefficient business process? Let us know in the comments below!
Recent posts
March 30, 2022

November 04, 2021
Articles
February 02, 2022

November 15, 2021
Global Presence
For 360o business innovation across the globe, get in touch!