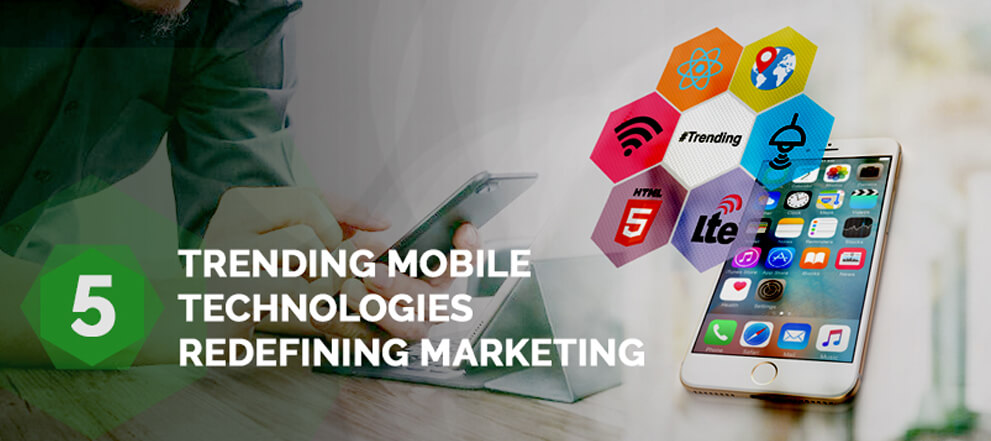 Category:

Retail / FMCG
5 trending mobile technologies redefining marketing
Smartphones are no longer a mere device to keep in touch with peers! With increasing capabilities, they have revolutionized the way millions of individuals around the globe are conducting businesses.
With more than 1 billion users worldwide and over 2.5 million apps – and still counting – smartphones are changing the game for businesses and paving new ways to integrate into the marketing mix.
With an overwhelming success in the usage of smartphones, smart mobile technologies have significantly penetrated into the society. With mobile dominating the buyer's mindshare, enterprises are being pushed to drastically change their business marketing models and adopt mobile marketing strategies.
Many top companies have already cash in on the burgeoning trend of the mobile technologies to share information, feedback, ideas etc. With people engrossed in their phones 24x7 reaching them out has become easy and convenient. Individuals download apps to listen to music, check their emails, do online shopping or even track their exercise routine. Enterprises can take full advantage of this trend and develop innovative apps to reach out to potential customers.
Mobile apps are no more an optional investment, they are a necessity now and the market is expected to grow at the rate of more than 14% from 2017 to 2023. We are in the last quarter of 2017 which has seen a phenomenal response in the mobile apps development and the year 2018 is set to be another gorgeous year.
So, let's see what does the future of mobile app development hold?
Top mobile technology trends that will take your business to the next level in 2018 are:
1) Cloud-driven Applications
Give wings to your mobile apps with an interactive cloud technology which is set to revolutionize the smartphones industry. The major benefit of cloud-based apps is that the phone requires less internal memory as the application can directly fetch data from the cloud also the data is highly secured as there is no risk of data loss. There are other benefits also like enhanced storage capacity, streamlined operations, reduction in hosting and equipment costs as well as increased collaboration and productivity.
If you want your app to function seamlessly across multiple platforms, building your application using cloud technology is a must!
2) IoT & Wearable Technology
IoT (Internet of Things) and Wearable technologies are going to be the next big thing in the year 2018 that will definitely reshape the enterprise IT landscape. Though it will take time for IoT to take off, it is here to stay and thrive. Based on a recent study, IoT will grow to $661.74 billion by 2021. There are many big players like Apple with its wearable watch, Google with its Android Things and other players with their activity trackers who are already booming in the market will continue to grow. In order to meet the diverse needs, enterprises have to adopt IoT sooner or later!
3) Augmented Reality / Virtual Reality
While Virtual Reality is there to redefine the world with its amazing features, Augmented Reality is just another icing on the digital cake. In 2017, we all witnessed the very popular and obsessive Pokemon Go, iOnRoad and myNav games, the year 2018 will dominate many more sectors like retail, manufacturing, life sciences and more other than games.
AR/ VR is a technology which adds a layer of digital and virtual information to the environment. It not only makes promotions interactive but embeds life into the everyday content by combining real and virtual objects in real time. As a business tool, AR helps in marketing efforts, brand awareness, increase engagement, speed completion of tasks and reduce errors.
4) Machine Learning Technology
Machine Learning technology is one of the most hi-tech technologies take the world by storm! With machine learning technology many mobile applications are increasingly learning about their user preferences.
Machine learning basically allows computer programs to uncover hidden patterns by analysing big data thus helping enterprises to make intelligent decisions, predictions or recommendations based on this customized data. Sounds intelligent, but there's more to it, machine learning will open a world of countless possibilities in the near future!
5) Mobile App Security
Mobile app security, cyber security will top the list of the technology advancements. Security of the smartphones has become vital as it stores majority of the personal data. Applications with an in-built security feature will outcome the peers in the largely competitive market. There are many top players in the market like Apple who have already integrated IT security at the earliest in their app development stage to give their customers best user experience.
Now that you know that 2018 is going to be a promising year for mobile apps, don't forget to change your marketing strategies accordingly to top the competitive game!
Recent posts
March 30, 2022

November 04, 2021
Articles
February 02, 2022

November 15, 2021
Global Presence
For 360o business innovation across the globe, get in touch!