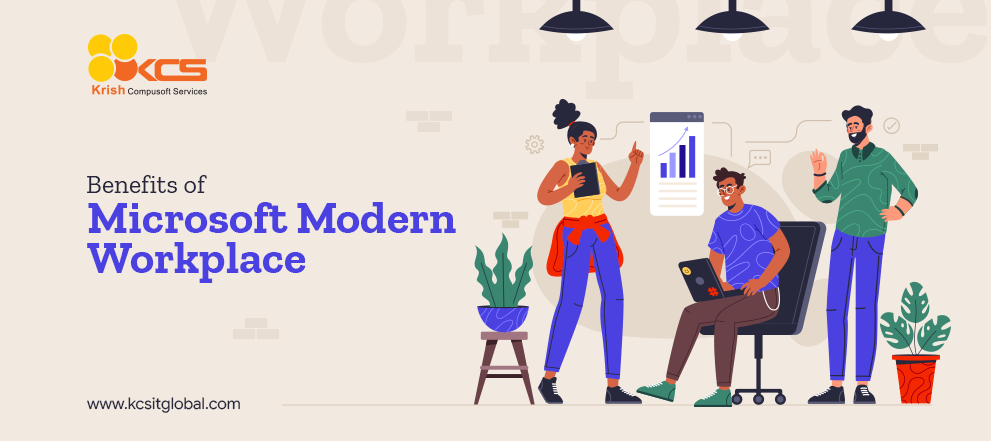 Category:

Hi-Tech
Benefits of Microsoft Modern Workplace
Over the course of 1.5 years, the way people work has drastically transformed. A report titled "The Future of Jobs" prepared by WEF demonstrated that globally, more than 1 million jobs are in jeopardy. The report also showed that 1.74 million jobs are emerging, but they might be a challenge for employees as well as employers because the new roles demand upskilling or in some cases reskilling.
Due to the COVID-19 pandemic, the workforce has become more flexible and geographically distributed. With the increase in collaboration with independent contractors, enterprises must equip with all-inclusive tools allowing effective teamwork among all team members. And it doesn't matter if an employee is working in the same space as their other teammates, or might be from a remote working in Texas. There is no doubt in the fact that the new approach to operations and management is inevitable.
For 90% of employees globally, remote working has become a new normal and find perfect work-life balance and won't give up that easily. On the contrary, organizations required must secure and protect their data if they are working remotely. Microsoft modern workplace enable a secure environment that allows enhanced collaboration streamlined communication. Despite where employees work, they will have access to the tools they have to stay connected and get the job done.
What is Microsoft Modern Workplace?
A modern workplace can be defined as a set of technological, psychological, and physical conditions designed to offer complete employee satisfaction along with optimizing the productivity and efficiency of an enterprise.
A recent study shows that the USA remote working employees population was estimated to be 105 million by the first quarter of 2021. Healthcare, retail, construction, IT, and manufacturing will experience significant growth as per the study. According to Global Workplace Analytics, remote working conditions have become very common in almost every country and sector. The report shows that there has been a significant spike in remote working by 159% since 2005, which is 11X faster than the rest of the workforce.
In other words, the modern workplace is nothing but Microsoft 365 clubbed with primary security features. It helps enterprises in transforming and stabilizing their business while regulating the reality that most of the organizations are downsizing their physical location.
In a distributed workforce, enterprise technologies must work everywhere and employees should be able to collaborate and connect smoothly. Cloud technologies support how the modern workforce chooses to work. Nevertheless, cloud-based software can be vulnerable when it comes to security risks. Cybercriminals prefer to attack software and systems that are vulnerable within an IT environment. Multi-tenant apps and platforms could be used by attackers to get access to your data and assets.
The Enterprise Mobility + Security license helps you to open your enterprise for remote working policy while offering more security from worms, Trojan horses, and several other types of malware. Modernizing your workplace using Office 365 will facilitate tools that will help you to reach beyond the standard remote working policies along with enhancing communication, collaboration, and productivity.
SharePoint and OneDrive connect remote workers from a central storage center and increase research, discovery, and updates to collaborative updates. Several other premium features like Microsoft Intune facilitate the focus of a modern workplace by combining other services within the Microsoft Office 365 sphere. Whereas, Azure Active Directory offers users more control and admin less turmoil.
What does Microsoft Modern Workplace include?
Microsoft Business Voice
Enterprise Mobility + Security
Microsoft Teams
Microsoft Office 365
Azure Active Directory
One Drive
Collaboration
Exchange
Microsoft Power Automate
SharePoint
Power BI
Windows 10 Virtual Desktop
What type of security does Microsoft Modern Workplace offer?
A Modern Workplace with Microsoft identifies that the rise in data usage, cloud adoption, and personal devices welcome new security risks. In the latest version of Microsoft 365, offering maximum security was at the top of the priority list. New cybersecurity tools were developed to help enterprises in creating secure environments with a help of a tightly integrated set of security technologies that include:
Azure Security Center
Windows Defender Advanced Threat Protection
Azure Advanced Threat Protection
Office 365 Advanced Threat Protection
Office 365 Threat Intelligence
Benefits of Microsoft Modern Workplace
1. Maximum security. Guaranteed!
Microsoft full-stack security models assure that only authorized users could access your environment. Microsoft 365 holds a wide range of features like Microsoft Defender End-Device Protection and Multi-Factor Authentication to assure the security of your tenant.
2. User-friendly experience:
Successful enterprise operations aid to ease of use and access to all the tools required. Using Microsoft 365 and the Modern Workplace, users can locate all the requisites in one centralized area. This user-friendly interface assures the satisfaction of users and hence enhances productivity rates.
3. Scalability:
All the facets of the modern workplace are designed to scale with your growth. Microsoft's subscription and licenses are flexible satisfy your enterprise's needs. It allows you to pay for only what you require – it doesn't matter if it is cloud storage or phone calls. As your enterprise evolves, you can adjust to various subscription plans and cater to your needs.
4. Flexibility:
Storing data in the cloud enables easier file access and sharing among various devices and teammates in different locations. Also, you can easily switch from various tools like instant messaging to file sharing and video calls with ease.
KCS Capability
At KCS, we optimize clients' Microsoft technology investments with our Microsoft modern workplace solutions. We benefit from early access to a number of exclusive resources and product information as a Microsoft Gold Partner. These resources include: access to a support team of Microsoft certified systems engineers on a priority basis, non-disclosure evaluation of emerging products and technologies, and planning tools & events for keeping up with the speed on the latest Microsoft product developments and future direction.
In our recent project closure streak, KCS helped India-based tour and travel companies streamlining their document management process using a data management system. In this project, experts at KCS leveraged several Microsoft technologies such as SharePoint Online and Power Automate. With the help of our solution, the client is now able to work collaboratively on the same files or documents at the same time that saved a lot of time and chances of generating multiple copies of the same
Conclusion
With the constantly shifting scenario and evolving technologies, workforces are expected to work and deliver from anywhere. Microsoft's modern workplace is developed to enable flexible working both achievable and easy to facilitate so that employees can work safely remotely from any device. With all the required tools integrated into one place, important files and documents are securely stored over the cloud environment while being easily accessible 24/7 by authorized personnel.
Recent posts
November 04, 2021

August 15, 2021

August 12, 2021
Articles
Global Presence
For 360o business innovation across the globe, get in touch!