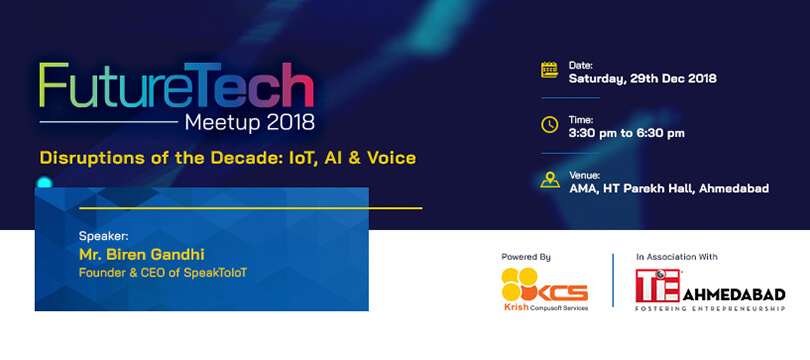 Category:

Hi-Tech
Calling all tech enthusiasts for the future tech meetup 2018
Did you know AI related to Robotics can help businesses grow while automatically managing tasks?
Have you ever wondered how does one go about building systems like Ola Wifi and Ola Play?
Wondered how you can add voice to GUI or Alexa to reach out to millions of users?
Wondered how an IoT device can make your home smart just with an application?
If you have always wondered about some or all of the above questions, then you need to head to the FutureTech Meetup 2018 in AMA, HT Parekh Hall, Ahmedabad on 29th December.
The curiosity and the buzz around the Internet of Things, Artificial Intelligence, and Voice Recognition technologies are increasing exponentially. Not just large enterprises or fintech companies, but today even small businesses, start-ups, or even individuals are exploring the diverse ways in which this new wave of technology can leverage.
The Future Tech Meetup Powered by Krish Compusoft Services in association with TIE Ahmedabad is scouting for startups with innovative business models or technology ideas or tech enthusiasts who are keen on learning about these futuristic technologies at the Meetup 2018!
The event 'Disruptions of the Decade: IoT, AI, & Voice' will focus on new technologies like IoT, Fog Computing, Blockchain, Robotics, Drones, Artificial Intelligence, Quantum Computing, Intelligent Voice Assistants, etc.
The CEO and the founder of SpeakToIoT Mr. Biren Gandhi will shed some light on innovations and there will be sessions on how these technologies are shaping the business landscape and how it will impact the jobs, skills, businesses, and humanity at large.
This will be an amazing opportunity for the entrepreneurs, coders, business-developers, designers, students, marketers, technology enthusiasts and other like-minded professionals to connect at a live event. They can even network and have an open discussion, share, collaborate, and learn with other people.
So whether you're building something interesting, or looking to learn about the new technologies, register now for the Meetup. Stay tuned for the Event Schedule and other details.
Recent posts
November 04, 2021

August 15, 2021

August 12, 2021
Articles
Global Presence
For 360o business innovation across the globe, get in touch!