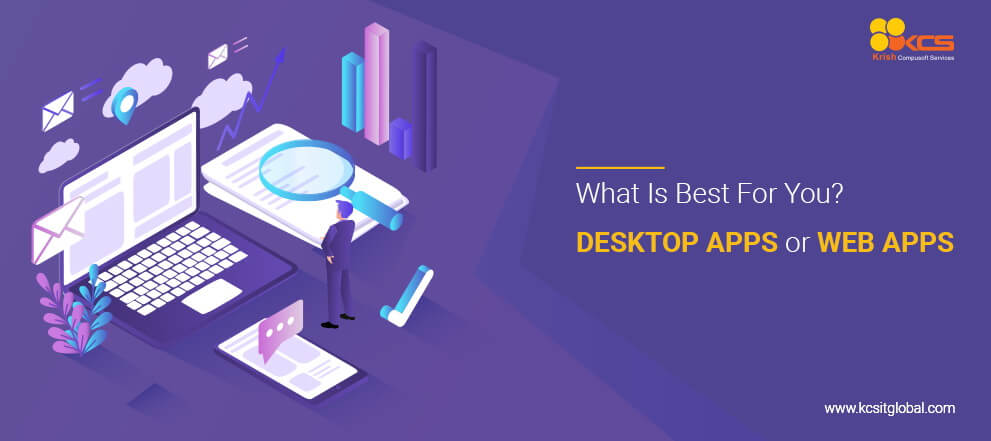 Category:

Education
Desktop or web based application what is best for you
The purpose here isn't to claim that one is ultimately better than the other, but to understand what those differences are to help you decide which will work best for your needs. There's no "right" way to do it and no "wrong" way - it's a matter of reviewing the project requirements and evaluating the technology available and making the best decision at the time.
One should make a creative website design application when need lots of users accessing and changing lots of shared data. One should build desktop apps when there is very little shared data, or when the sharing of data is simple enough that emailing files back and forth is sufficient.
Rather than pointing out everything that's great about each, highlighting differing features between the two options to avoid overlap.
Points for considering Desktop application :
Speed -
One of the first and most obvious pros for desktop is desktop counterparts are faster.
Manual Feed Refresh-
With a desktop-based reader comes the ability to refresh your feeds whenever you want to, ensuring the latest news available. Feed refreshing is much better.
Quick search-
To search and retrieve content from your desktop reader is as quickly as you can from your using a web-based reader.
Customization -
customization is one of the biggest advantage of the desktop reader. It provides many options for customizing the layout (preferences, look and feel, etc.) by tweak it within the programs preferences.
Security -
Desktop applications only have very limited security issues. These tools usually have better security since servers are self-hosted and customizations can easily be done if you do not want users to access confidential data and reports.
Points for considering Web application :
Access from Any Web Browser:
One majoradvantage of web-based is that they can be accessed from any computer with a web browser and an internet connection.
Cross-Platform Sync:
The desktop reader does not handle multiple locations well as compare to the web based as it offer a lot in terms of Synchronization.
Cost:
The amount of money to spend is the most important thing to consider. This usually depends on the initial investment of the company. Other issues to consider are the operation support costs for customizations and problems, and future code upgrades.
Installation and Accessibility :
With web-based applications, there is nothing to worry about installing them to the computer or laptop. These tools can be accessed with an internet connection. This is one good advantage of web based since they are more platform-independent - all that is required is a web browser.
No Storage Required:
This rests very much on the line of the "no installation required" feature, but the fact is that if you want to archive a lot of your subscription content on your desktop, you'd better have some space to store it all. With Google Reader, all that information rests in Google's omniscient cloud.
Size and Location:
If your team is located in multiple offices or even global, then web based applications is the best option.easily accessible anytime as long as there is an internet connection.
Integration with Other Google Products:
Google Reader offers integration with Google services like Gmail (for quick emailing of items) to Google Talk (for the shared items feature). It also embeds YouTube videos and streams podcasts with Google's default audio streamer.
So, depending on these criteria, you can choose your application which is the best suit to your recommendations.
Recent posts
March 30, 2022

November 04, 2021
Articles
February 02, 2022

November 15, 2021
Global Presence
For 360o business innovation across the globe, get in touch!