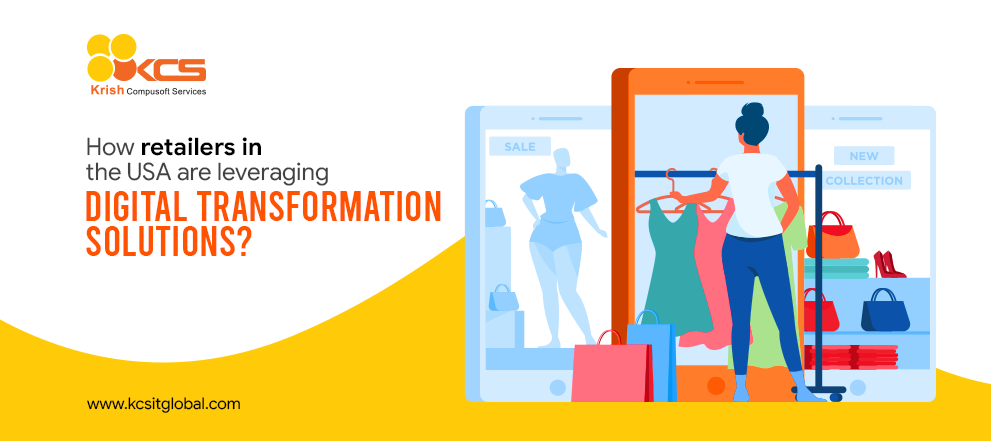 Category:

Retail / FMCG
How retailers in the USA are leveraging Digital Transformation Solutions?
In the world of cut-throat competition, where inspiring brand loyalty is the topmost priority, retailers are dependent on digital technology to help them customize, differentiate, and enhance the customer journey. But in reality, it is not just about the customer's experience. Modern technologies have transformed business operations right from the manufacturing plant to the store shelf and through every step in between.
Existing retail customers have various expectations and if they are not fulfilled, it is assumed that they will switch to a competitor. Digital technologies allow have offered a variety of cutting-edge features that enhanced the customers' shopping experience, these include:
Inventory transparency
Comprehensive tracking experience
Purchase online, pick up in-store
Loyalty and personalized promotions
Omni channel customer service
Installing Beacons technology at the store entrances picks up on customers' loyalty in the proximity, allowing bespoke offers on the basis of their past purchase. Smart dressing rooms like the ones at Ralph Lauren's flagship store in New York City, not only allows trying various colors for a particular outfit, but they also enable their customers to adjust the lighting for different times of the day. If any customer needs a different size for an outfit, all they have to do is choose the option they want, and it alters a sales associate. Items that match with outfits a customer is trying on also appear in the mirror, encouraging an upsell. Items not purchased can be directly sent to the customers' phone in the purchase later section.
The options for retailers to integrate digital transformation services in USA are pretty high. Retail technology has enhanced the shopping experience to the ultimate degree. But the landscape is just as thrilling from behind the counter, increasing efficiencies, streamlining inventory, boost profits, and inducing brand loyalty. Here are some of the data-driven efficiencies that are supporting today's retailers:
Supply chain optimization
Inventory accuracy and visibility
Predictive inventory and demand forecasting
Employee management
Product traceability
Logistics management
In-store product placement optimization
1. Flexible IT environment:
Having the right technological tools to empower digital strategies is essential in today's business world. But did you know that 45% of employees in their enterprises lack all the necessary technology to implement a digital transformation strategy? Luckily, some companies recognize the need for incorporating agile systems, and 86% of organizations believed that cloud technology is important in digital transformation. The cloud allows businesses to be dynamic, fast, and flexible; offering your company the power to test new projects that are pocket-friendly and less risky. The cloud also enables you to fulfill the ever-changing customers' demands quickly.

2. Personalized customer experience:
Today, customers want enterprises to treat them as a unique individual, and learn their personal preferences and purchase history. In a study conducted by Accenture, 75% of customers prefer to purchase from a company that:
Understand their purchase history
Identify them by their name
Recommends their products according to their previous purchases
The good news is that customers are happy with enterprises to use their data to enhance their experience. For the retailers who want to leverage this opportunity, CRM investment is highly recommended. Without CRM, it becomes difficult for retailers to treat customers as individuals. Also, without storing the history of how your business interacts with them, it is critical to offer a unique experience. Using a CRM system, you can analyze and study customer data according to a customers' previous purchase with your enterprise.
3. Streamlined multi-channel experience:
Technology has authorized customers to get what they need, whenever they want, and how they want it. Approximately half of the customers now expect a customer service response in less than an hour. They also demand the same response time during weekends as on weekdays. This need for instant gratification has forced businesses to stay accessible and on-demand 24 hours a day, 7 days a week. Today, everything is happening in real-time, which is why those enterprises that can provide quick, personalized, and accessible to their prospects will be beneficial in the long-run.
Conclusion
In today's evolving world, always connected and always-on society, organizations are forced to consider implementing a digital transformation strategy, if they haven't already. Digital transformation provides companies an opportunity to attract modern buyers, and deliver on their expectations of a seamless customer experience despite channel or place. For the retailers who are looking for the best digital transformation services in USA, KCS is the best place to visit. For 20+ years, KCS is helping retailers from the varied industry from all over the globe to adopt the best cutting-edge technologies and tools in their business and enhance their customer experience.

Recent posts
March 30, 2022

November 04, 2021
Articles
February 02, 2022

November 15, 2021
Global Presence
For 360o business innovation across the globe, get in touch!