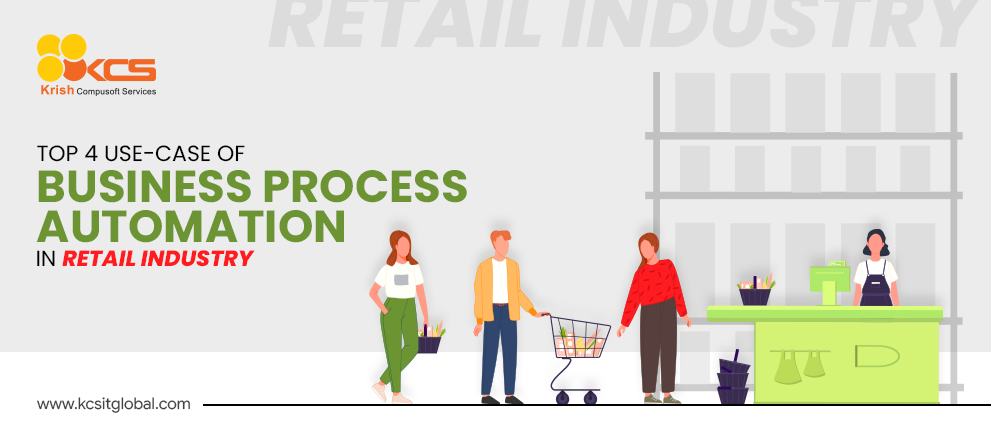 Category:

Retail / FMCG
Top 4 Use-Case of Business Process Automation in Retail Industry
Wondering, what is the current state of the retail industry?
According to the latest online shopping data, with 69 percent of online buyers, the United States is the world's top-spending nation. While, in 2020, consumers in the United States spent $861.02 billion online, an increase of 44.0 percent over 2019. It is the most significant yearly e-commerce increase in the United States in at least two decades.
As statistics clearly show, the retail industry is one of the fastest-growing and transforming industries. However, the modern retail business is still under siege from all sides: supply chain management, rising customer demand and expectations, more investment to keep up with the new competition, and rising labor costs. Factors like the above make it a necessity to implement business process automation in the retail sector. Hence, to overcome significant challenges, the retail industry should be technology-enabled which means automation process, payment platform, payroll management and etc.
Automation is well-known for its ability to save time. However, automation does more than merely assist in the completion of tasks.
Let's have a look at some representative workflow automation services in retail.
Scope of Business Process Automation in the Retail Industry
Presently, Robotic process automation (RPA) and Artificial Intelligence (AI) are the two most common solutions for the problems and constraints that arise with business expansion. In retail organizations, using business process automation services means eliminating duplicate activities, speeding up workflow, reducing human error, and lowering total costs.
According to the report of Automation in Consumer Good, RPA has already been used by 43 percent of CPG executives. While, by 2021, 85 percent of retail firms and 79 percent of consumer goods companies expect to use intelligent automation for supply chain planning. Beyond the serving benefits to the retail business, RPA and AI technology help them to refine the working flow.
The top 4 business process automation use cases in retail, as well as how commercial organizations will adopt automation, are listed below.

1) Return feature
People are increasingly selecting online purchasing as the best alternative as a result of the advent of a pandemic. Hence, correctively return has become one of the most popular elements in the online shopping procedure over the years. As not every buyer is familiar with the internet world, they prefer a simple return process that is free of hassles and complexities.
Returning items manually can take a long time and be confusing for the user. By automating the return procedure, you can reduce the number of human inputs and have the database reverse the billing record.
2) Workflow management
Retail is one of the businesses that necessitate constant human involvement in order to perform numerous tasks. On the other hand, real-time human engagement with customers is supreme.
As a result, when employees are flooded with everyday manual duties, it is critical to investigate whether any of the tasks may be streamlined to relieve employees of the strain. Workflow automation services assist the retail industry in automating a variety of tasks, including HR administration, order management, customer management, job scheduling, payroll, or employee management. The retail company can easily eliminate that undesired aspect from the workflow by identifying the often-occurring tasks and processes that are damaging overall productivity and deploying the appropriate automation solution.
3) Customer support
Retailers are adopting a customer-centric strategy and concentrating on consumer satisfaction and experience, much like other sectors. Hence, with a growing emphasis on customer satisfaction, customer support has emerged as a critical component of the internal retail process. Furthermore, providing 24-hour customer support and keeping them up to date with real-time information has become important. By implementing business Process automation services, firms can able to provide make swift and convenient customer support.
The system will track the product from the time it is placed until it is delivered, and it will keep updating the customer about the current status. In addition, good customer service will gather consumer feedback. Ultimately, the customer support business automation process will save time, money, and other resources.
4) ERP management
Following inventory management, ERP management is another important aspect of business process automation. An ERP with a business process automation solution reduces the amount of time and effort required to keep track of invoices, pricing changes, staff vacancies, and payable and receivable accounts.
An automated ERP ensures that you never run out of resources for your business by integrating inventories at the warehouse and sales at the point of sale.
Bottom Lines
As we entered the new decade, business process automation played a key role in the retail industry. Automation technology has become more affordable compared to the past. Business process automation is an ultra-compact solution for the retail sector, and it may be utilized for a variety of reasons in the retail industry, including improving customer experience, simplifying processes, and lowering total operational costs.
If you're a retailer looking to automate your whole business process, then KCS is the right place for you. We have a huge team of highly experienced experts that carefully examine retail clients' business processes and activities and provide the finest automation solutions for different parts of their operations.

Recent posts
March 30, 2022

November 04, 2021
Articles
February 02, 2022

November 15, 2021
Global Presence
For 360o business innovation across the globe, get in touch!