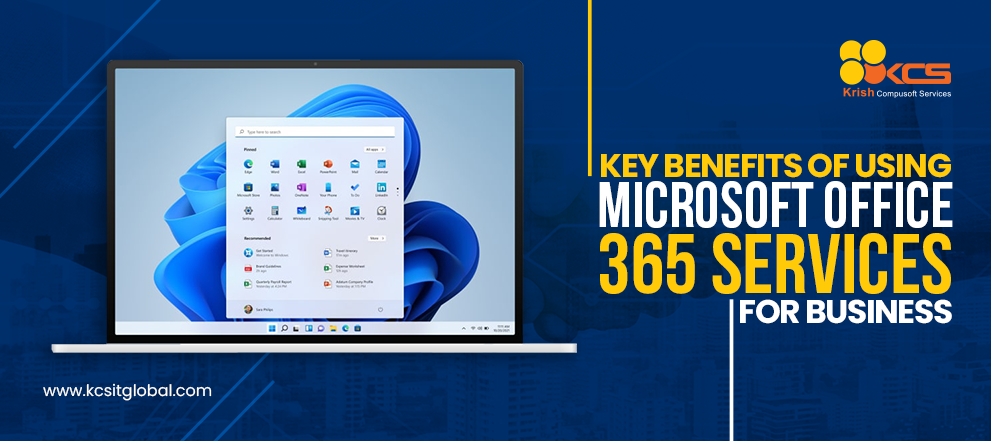 Category:

Hi-Tech
Key Benefits of Using Microsoft Office 365 Services for Business
Efficiency has become more prominent for businesses than ever. Employees that can successfully cooperate, communicate, and engage with one another make any business more efficient.
Having access to productive tools and technology that enables the employees to perform all crucial activities easily and from anywhere makes the organization agile, and productive
According to the research, 43% of companies have adopted Microsoft Office 365 services because it benefits businesses in many ways. Let's see the benefits of Microsoft Office 365 Services.
Benefits of Using Microsoft Office 365 Services
Implementing the services of Office 365 can provide a huge number of benefits to the company. We all are familiar with the term "Microsoft," and probably used one of its products at some point.
Microsoft Office 365 is the most needed solution for businesses in this digital era since it gives them a competitive edge and allows them to effectively embrace a remote working environment.
Here are some crucial benefits of Microsoft Office 365 Services:
1: Access File Anytime Anywhere:
It is one of the most significant benefits of utilizing Microsoft Office 365 Services for your organization. It provides a cloud-based solution to the users which means you can store all your file on the cloud and can access those files from anywhere and at any time as long as you have an internet connection.
After the pandemic, this benefit became a blessing as every business began to adopt a remote work strategy in order to preserve the social distance policy and slow the spread of COVID-19.

2: A Robust Security and Reliability
One of the most common misconceptions about the cloud: it is not safe. Office 365 takes the whole responsibility of data security and reliability. With Office 365, organizations may reduce server room overhead costs as well as pay for employees maintaining and administering the server room by keeping all data in the cloud. This cloud is extremely eco-friendly and has a backup mechanism in the event of a calamity.
Hence, Microsoft Office 365 Services allows IT teams to use their time and resources elsewhere. Besides, Office 365 comes with a slew of security features that will keep your company's data safe.
Here are the three most crucial safety features of Office 365:
Encrypted email
Data loss prevention
Advanced threat analytics
3: Easy Collaboration Amongst the Team and Users
Working in a team is the primary task of many businesses. If your company is one of those, Microsoft Office 365's collaboration features will be extremely beneficial to you and your company. Every authorized user may edit and alter a specific document, spreadsheet, or any other file and that will be updated as the current version, and changes can be notified by other people in real-time. There are no different versions of floating and no need to manually integrate all of the new versions. In the case of Office 365, many people can make changes at the same time and view them in real-time.
4: Improver the Communication
Microsoft Office 365 has a distinct communication platform, which includes Skype and Outlook. Skype is a corporate communication tool that allows you to make a conference call, meeting with staff and external parties. Thus, you can speak with individuals no matter how far apart they are or what time zone they are in. While the team provides an instant messaging service. Moreover, users can share any type of document and add comments through a team. If someone wants to connect with you through chat, audio, or video call, you'll get a real-time notification.
5: Business Intelligence
Office 365 gives a comprehensive insight into how employees operate based on data customer-generated data. This data will be critical for business development and will have a major influence on the company's bottom line. Office 365 makes it easier to collect, manage, and analyze data. Data visualization creates a better understanding of analytics and helps the user to make better decisions. It has the limitless capability to present the data.
Final Word
The top five advantages of Microsoft Office 365 Services are listed above. Office 365 has a 50GB email storage capacity, which is ideal for those that send and receive emails in volume. You may also send files or attachments up to 150 MB through email. You don't need to put extra effort into the latest version of Office 365 it will automatically give you access to it without charging an extra cost. Overall, using Microsoft Office 365 Services benefits your business in a variety of ways while also allowing your workers to be more productive.
KCS is a certified "Gold" partner of Microsoft Office. We assist our clients by delivering a comprehensive Office 365 setup as well as giving them adequate training on how to use it. Furthermore, provide them with ongoing assistance.

Recent posts
March 30, 2022

November 04, 2021
Articles
February 02, 2022

November 15, 2021
Global Presence
For 360o business innovation across the globe, get in touch!