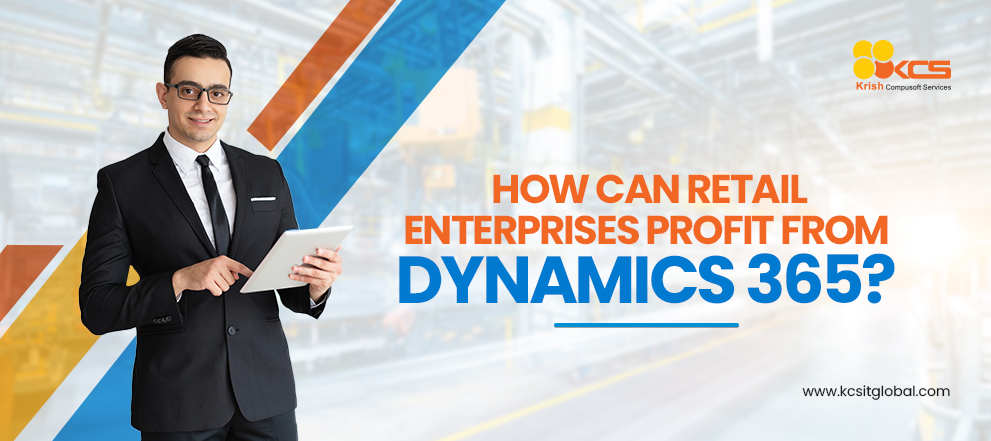 Category:

Hi-Tech
How can retail enterprises profit from Dynamics 365?
A report by World Trade Organization shows that total world trade in goods dropped by 5.3% due to the COVID-19 pandemic. The Coronavirus catastrophe disrupted almost every area of the retail industry right from in-store processes to supply chain to customer engagement. Nevertheless, not all retailers are encountering the same adversity amidst this global pandemic, some are gaining profits.
Now that the COVID-19 situation is neutral (all thanks to global vaccination programs), shopping centres have reopened, retailers are prepared to face new challenges. Today's digital world is a door that swings both ways; there is a large volume of data available to customers, but this means there are more available about them, too
Frequently, changing needs of modern customers and their demands for a seamless & personal shopping experience has transformed completely the retail industry and also bought in modern business challenges. Catering to modern retail challenges, Microsoft Inc. has built an application especially for retail enterprises, Dynamics 365. This service rolls a complete set of features for handling the front end and back end of the modern retail organizations besides some industry-specific tools.
Being a modern-age retailer, you must acknowledge several aspects associated with customers such as:
What customer behaviour change have you noticed in the last two decades?
Are there any customers inclined to buy anytime anywhere?
Are they active on various platforms?
How do you plan to interact and attract them online along with delivering unified customer engagement?
Luckily, Microsoft Dynamic 365 will help you stay ahead of the competitive curve in the eCommerce and retail industry. But before we jump to the topic and understand the benefits of Dynamics 365 for Retail Industries, let us learn the basics of Dynamics 365.
What is Dynamics 365?
Dynamic 365 is the latest cloud-based enterprise tool, accumulating CRM, and ERP parallel to Power BI reporting feature in one streamlined, unified package. Several apps are being broken down with its CRM and ERP capabilities, Dynamics 365 is developed so that users can start with what they require, and grow at their pace, including new apps and features whenever required.

Dynamics 365 is based on Microsoft's cloud computing solution hosted on data centres across the globe, Azure. It can be accessed from a web browser instead of installing on individual computing devices as Dynamics 365 is offered as a Software as a Service platform. This means that any fixes and updates will be handled by Microsoft and applied automatically.
Dynamics 365 consolidates with various Microsoft products such as Office 365 and Outlook and is available to integrate with third-party apps. It is also like to high incorporate Microsoft latest acquisition LinkedIn in as-yet-unannounced ways. A recent report by Columbus Global states that developing an ERP system using Dynamics 365 will help businesses in saving £2.2 million in licensing and support costs. This report further asserts that Dynamics 365 allows better and more accurate data gathering so that it increases IT staff's efficiency and by 20-50% and help them in spending more time in analyzing and improving processes.
What type of Apps retail enterprises will get with Dynamics 365?
Dynamics 365 provides purpose-built enterprise apps that handle particular business processes and work collaboratively in a single cloud-based product offering. The key to getting more profit for your business, understanding what your enterprise requirements are and how they fit within Dynamics 365. The enterprise apps include:
Customer Engagement (CE):
Dynamics 365 for Sales (Earlier Dynamics CRM Online)
Dynamics 365 for Field Service
Dynamics 365 for Customer Service (Earlier Dynamics CRM Online)
Dynamics for Marketing
Dynamics 365 for Project Service Automation (PSA)
Dynamics 365 Unified Operations (UO)
Dynamics 365 for Supply Chain Management (SCM) (Earlier Dynamics AX)
Dynamics 365 for Finance (Earlier Dynamics AX)
Dynamics 365 for Human Resources (Earlier Talent)
Dynamics 365 for Commerce (Earlier Retail)
Let understand why retail enterprises should adopt Dynamics 365 for Commerce to avail maximum profit
1. Enables enterprises to establish, manage, and personalize their eCommerce platform:
Using Microsoft Dynamics CRM For Retail, businesses can develop their eCommerce website and personalize all the key aspects with modules such as product page, marketing, search, account management, header & footer, by online/pick up in-store. Using the product page module, enterprises can edit product names, toggle quick view settings, specifications, add-to-cart, and manage review & ratings. The search module will help businesses in editing and personalizing the search feature on their website to make it simple for the customer to find what they are looking for. The marketing module will enable you to handle promotions and various other features required to show your content.
2. Can connect various Microsoft Apps for broad insights powered by artificial intelligence:
The true power of this platform belongs in its capabilities to connect with other Microsoft products to import all your data into one place. All thanks to Microsoft AI, all the information is thorough and accurate so you could view things like store assets, customer data, finance, inventory, pricing, marketing campaign, fraud protection, etc.
3. Reinforce the customer experience by connecting Dynamics 365 CRM:
Linking Dynamics 365 CRM will help you in gaining access to information that includes behaviour, customer acquisition, relationship management, loyalty program, and customer retention. Using these smart insights, you can offer the right customer support, optimize your marketing, and sales operations, and learn how to resolve bugs like cart abandonment effectively.
KCS Capabilities
Every day, KCS works with enthusiastic teams and visionary brands to achieve more in the Microsoft Cloud. As a Certified Microsoft Gold Partner, we deliver Microsoft Dynamics 365 for Retail solutions that help them in connecting, improving, and streamlining business operations in order to grow in the market. Our experts deliver the full suite of services for modern retail organizations using Azure, Dynamics 365, and Power Platform.
KCS Fulfillment
Recently, KCS delivered an intranet system for the USA's leading retail chain company. The client already had a system but it was not performing as per their expectations. The company needed a fresh document management system and intranet system that helps their employees to communicate, collaborate, and share content. Our experts decided to develop a web-based Intranet system comprising of document management, collaboration tool and central location for news and company updates. Using the new intranet system, the users are now able to store can create and manage unlimited documents, news, photos, videos, events, presentations, and a lot more.
KCS Outlook
Despite several benefits of Dynamics 365 and the countless reasons to integrate it in your retail business, there is a catch in using this solution. Before investing in any enterprise solution, you must analyze the solution and draft a working strategy that will be suitable for your enterprise. To conclude, with Dynamics 365 for retail industries, leverage the modules that assure greater sales returns with practical and organized tasks. It supports retail enterprises of all sizes, business models, verticals, and operating geographies.

Recent posts
March 30, 2022

November 04, 2021
Articles
February 02, 2022

November 15, 2021
Global Presence
For 360o business innovation across the globe, get in touch!