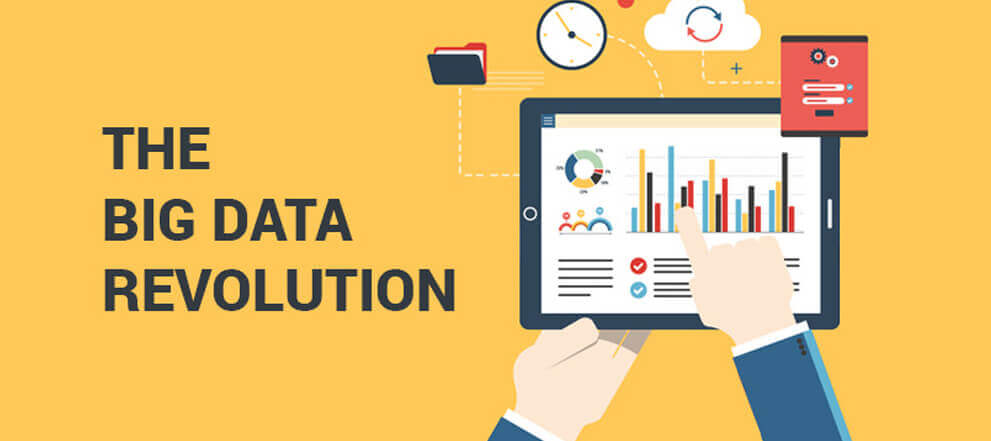 Category:

Financial Services
The Big Data revolution: how data is disrupting the financial sector
From patterns to profits, the new-age technologies like Cloud, Big Data analytics, Machine Learning, and AI are unleashing value for emerging as well as established industries. Forward-thinking financial institutions are using these digital technologies to meet their client's and regulators demands while working to bolster the bottom line.
Various enterprises are now dealing with the continuous flow of information. Because of innovative data-related technologies and analytics, data is not an enormous chunk of facts but it is a vital source of insights leading to better decisions in business.
1. Changing Leadership Roles
Adopting advanced technologies, extracting insights and adding utility from newly available information can bring change to leadership roles within financial enterprises.
2. Data-driven Decision Making
Timely availability of substantial and distinctive data enables decisions to be made on evidence-based analysis rather than instincts. Thus CFO and their finance team can evaluate opportunities based on the reduction of cost and growth of revenue.
3. Discovering New Business Opportunities
New solutions can accelerate the discovery of new business opportunities including data monetization. It further helps in the development of strategy and identification of best future investment areas.
4. Elevated Efficiency and productivity
Automation and cloud storage helps the enterprise to handle large unstructured data at a lower cost. This moves the focus of decision making from how to process and store data (IT) to how to make supreme use of the insights generated from the data (CFO).
5. Management of Risk and Regulatory
Financial enterprises are requiring improved procedures, infrastructures, and increasing regulatory reporting demands. It adds to the integration and collaboration of CFO and CRO resulting in better functioning and capabilities for conducting activities like real-time simulation and model testing.
Becoming a Big Data-Driven Financial Enterprise
Following various strategies can strengthen the possibility of positive results while limiting project risks. The following three strategies should be followed by a financial firm according to us.
1. Data Operating Model
Financial enterprises should establish a new data operating model focused on the role of data in the decision-making process. The new model should define roles and responsibilities as well as standards for data quality as a major part of the process of data governance. The role includes Data Governance Coordinator, Data Quality Steward, Data Manager, and Data Requirement for various Reports, etc.
2. Driving-Edge Architecture
Enterprises require driving edge architecture with advanced technologies, flexible structure and new solutions that can store and analyze a large number of different types of data. Through Data Management, data can be elaborated and enriched using specific algorithms and engines. The architecture includes data discovery functionality, where data can be explored, browsed and analyzed at different stages and aggregation levels.
3. Cultural Change
Enterprises need a cultural change. Business roles, innovative mindset, and advanced skills are required throughout the organization – senior management to understand real business value while adopting Big Data. Accountability for data ownership, traceability, and reliability of business data should also be established. Financial firms need to develop several new skills and capabilities in areas like quantitative analysis, data science, and IT architecture. Along with this experienced professionals are also needed.
Big Data for Superior Decisions
Due to Big Data Revolution, CFO's know about the elements of business environment like never before. They have the availability of real-time insights which elevates business decisions.
Big Data Management Process (data storage, elaboration, and analysis through advanced technologies) helps CFO's to have quick and direct access to insights generated from big data. It shifts the role of CFO from monitoring and control function to a strategic partnership with the business. It also includes their proactive involvement in the choices of strategic investments and the development of new business opportunities.
Better Information at Lower Cost
Unlike conventional business intelligence systems, new technologies used with Big Data allow CFO's to gain more useful information at a much lower cost.
Huge Data Lakes can provide significant cost benefits because of greater flexibility and scalability in data analysis. By using sophisticated and automated analytical tools that can store and analyze data easily and faster, CFO can cut the overall cost including the cost of data elaboration. Adoption of Big Data and Analytics helps enterprises simplify and reduce the cost of storing the data, converting them into useful information for regular reporting, data-intensive activities like scenario analysis and real-time simulations.
Big Data: High Stakes for CFO's
Today, at financial enterprises, the CFO and finance functions are called to provide operational improvements and elevate profitability while responding to ever-more prominent regulatory requirements.
A new operating model to manage information incorporating high standards for data quality, alignment of data processes, new technologies, harmonized regulatory and management reporting, and new analytics capabilities can contribute significantly to an enterprise's overall value and profitability. CFO's are uniquely positioned to take on the role and capitalize on the opportunities presented by Big Data.
Recent posts
March 30, 2022

November 04, 2021
Articles
February 02, 2022

November 15, 2021
Global Presence
For 360o business innovation across the globe, get in touch!