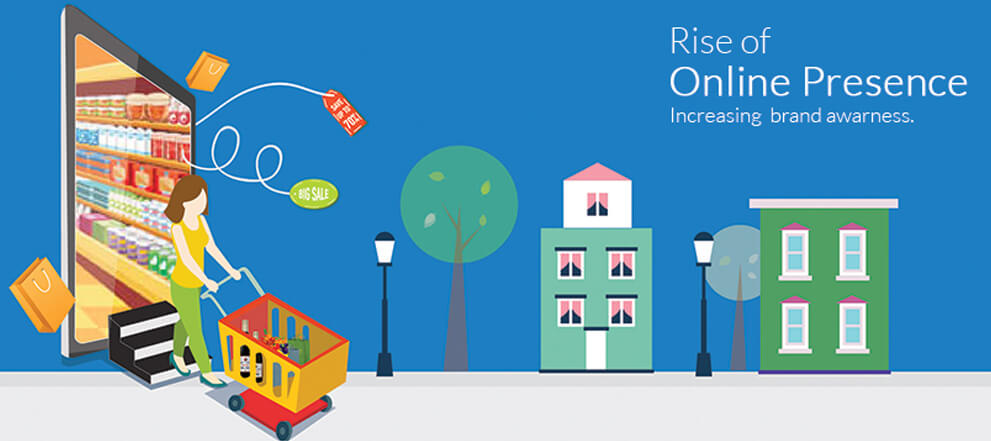 Category:

Media & Entertainment
The rise of online presence & how it helps to increase brand awareness!
E-commerce is on a high pedestal of popularity and demand nowadays, with a majority of the companies jumping on the bandwagon of selling products online with a well-executed strategy. Recently a survey has revealed that around 39 percent of the online sellers have their own website or explore two or more e-commerce portals as an alternative to selling and grow their business. In this competitive era, a high level of familiarity along with an in-depth knowledge of an e-commerce website is the most important factor that drives brand equity.
But has anyone asked the question why?
With technology growing at an astronomical pace, every business world whether big or small demands an online presence. This is especially true for businesses who wish to reach customers who are else ways not possible to cater through traditional retailing. There are many examples of the pioneers out there who have built up their own e-commerce portals for sale online and have really hit the bull's eye.
An entrepreneur has once stated, "E-commerce, today has become important than ever for businesses to stay afloat. This won't be an exaggerated statement to make that in this era, businesses can lose customers or revenue by not upholding an online existence. The E-commerce industry is a force that no investor can bear to ignore in order to flourish!"
With many who are just getting into the e-commerce business, are you aware of the new term floating in the market – 'M-commerce'? E-commerce and M-commerce go hand in hand, where buying or selling through websites from desktops is e-commerce whereas buying and selling products on mobile devices is m-commerce.
With the boom in smartphones and tablets, companies planning to have an online occurrence must make sites that are mobile friendly as well. Nowadays, customers visit the showroom, check out the product, and instead of purchasing from the store prefers to buy online at discounted rates. Thus, an online presence is extremely important to retain customers, enhance the brand, increase the sales and keep up with the competitors.
Here are other reasons that justify that e-commerce or m-commerce is the only thing corporates or businesses need:
Traditional retailing has become quite dull in the 21st century. Now, the only mantra is online presence = brand awareness.
According to one survey, over 97% of the consumers use web to search for local businesses, and if they are online, you should be too.
Having an own e-commerce or m-commerce website helps you to create repeat business
It reinforces your brand and what you offer to your target audience.
Influence customers easily and help them to know you better.
Even helps to collect demographic data to understand what your audience needs and from where they belong with the help of social media and web.
You can even launch new products and services as when required.
The most important factor is, it helps to gain trust which leads to more prospects, more consumers, and thus more profits!
With all its growing clout, e-commerce or m-commerce is the rising star of the future, thus pushing many companies to take the advantage of what they offer. If you would like to have your own online portal, KCS is a leading company who would support you to get an online presence.
We at KCS, are involved in designing and developing amazing e-commerce or m-commerce portals that will help your business outshine in the commercial marketplace. Our developers are well versed with amazing skills required to develop portals with all the necessary features to give your business an ultimate boost. Now, it's easy for B2B or B2C sellers to reach their patrons globally with a beautiful and user-friendly website. KCS has all the modern and advanced technology, which we blend with our experience to build the best and secure e-commerce sites.
Our utmost goal is to ensure that your site is scalable, secure and SEO friendly. We have an in-house SEO team who will help with your digital marketing to increase the rankings of your site over Google and thus upsurge traffic.
This is it, folks! It's now time for every entrepreneur to get serious about building their online portal. The emergence of online existence for shopping as well online food ordering has forced brands to build their own site. Not everyone prefers to go over major online portals like Amazon or eBay, there are many loyal customers who would rather prefer to visit your own portal. A company executive has confirmed, "People prefer buying from company's own website to ensure after sales service, warranty etc. thus attracting many consumers."
Recent posts
March 30, 2022

November 04, 2021
Articles
February 02, 2022

November 15, 2021
Global Presence
For 360o business innovation across the globe, get in touch!