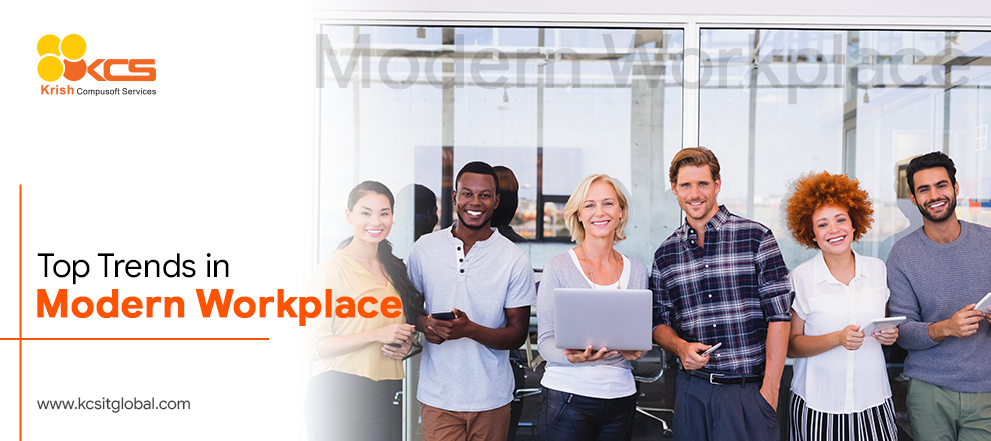 Category:

Hi-Tech
Top Trends in Modern Workplace
We are living through times of rapid transformation and great disruption in every sphere. Things are no different at the workplace. HR leaders have been navigating several unknowns and challenges in the last couple of years. The heightened war for talent and increasing employee turnover pose a big challenge for business continuity, while a human-centric approach to employee engagement is driving the CHROs to reimagine the world of work to deliver greater employee experiences.
Today, effective utilization of the latest technological advances to enable hybrid work enablement, effective management of collaboration for scattered teams, providing secure solutions, and task automation are some of the top topics on a business leader's agenda.
Hybrid, remote work is here to stay
In 2022, businesses will have already accepted remote and hybrid work environments as the norm and will focus on adopting and extending technologies to better engage and enable the scattered teams. In a world where nearly three-fourths of the workers consider the provision for remote work as the main driver to choose to work for a company, more and more employers will continue to adopt a remote or hybrid working model for their knowledge workers in 2022.
As per a Remote Work & Compensation Pulse Survey conducted by a leading talent management firm based in North America, 63% of high-revenue growth companies are hybrid friendly. Other key observations of the survey for 2022 are:
48% of employees preferred to work fully remotely
44% of employees chose hybrid work arrangements
51% of employers favor the modern work approach
Bridging the Gaps between Scattered Teams
Fostering a successful and productive remote working environment will continue to be a top priority for businesses. Modern workplace solutions will help more companies to empower their employees to seamlessly collaborate across the boundaries of teams, locations, devices, and apps. Collaboration tools such as Teams, SharePoint, Yammer, OneDrive and more facilitate efficient communication, instant messaging, virtual meetings, centralized files, quick editing, and enhanced security.
Better collaboration will deliver the below benefits to business teams:
Increase employee productivity
Improved and efficient communication
Remote collaboration made easier
Ability to work as one team despite being scattered
It's Security Anywhere Too!
As more people connect to corporate systems and applications from outside the security perimeter, many a times through unsecured network connections, additional layers of security are a must to protect identities, devices, data and infrastructure. This is even more crucial as a single data breach can cost more than USD 4 million to a company.
The tradeoff between security and productivity is real and needs to be carefully managed. Remote collaboration tools need to work in perfect sync with security controls to protect, detect and prevent incidents.
Companies will be focusing on solving the following security challenges:
User & Identity Management
Endpoint security
Data privacy
Security for hybrid multi-cloud environments
The Automation Imperative
Advances in business applications and process platforms, increasingly powered by artificial intelligence and machine learning, enable businesses to redefine processes, and automate routine, mundane tasks. In a 2020 survey, McKinsey noted that two-thirds of the participating companies had started on their automation journey. "And that successful organizations continue to focus on employees as much as technology—and that they have instituted new ways of doing so in which employees work alongside the new technologies."
Automation is on every business leader's priority list today. Some of the key factors driving automation initiatives are as below:
Automation is seen as a strategic enabler of competitive advantage
Delivers speed and accuracy in routine tasks with reliable outcomes
Creates a highly effective workforce as people can focus on adding value rather than execution
Enables intelligent, robotic, voice & chat support assistants for the best customer experience
The Future of Work is not far. It is already here. We at KCS have been enabling some of the Fortune 1000 companies adapt to this new world-order at the workplace, to rethink their business processes and helping them run them better. We are proven experts in the Microsoft Modern Workplace portfolio, with strong credentials delivering solutions using Microsoft 365, Power Platform (Power Automate, Power Apps, Power BI), Teams, SharePoint and more.
Besides the technology, genuine care for the well-being of employees and human-centricity are at the core of our Modern Workplace solutions.

Recent posts
March 30, 2022

November 04, 2021
Articles
February 02, 2022

November 15, 2021
Global Presence
For 360o business innovation across the globe, get in touch!