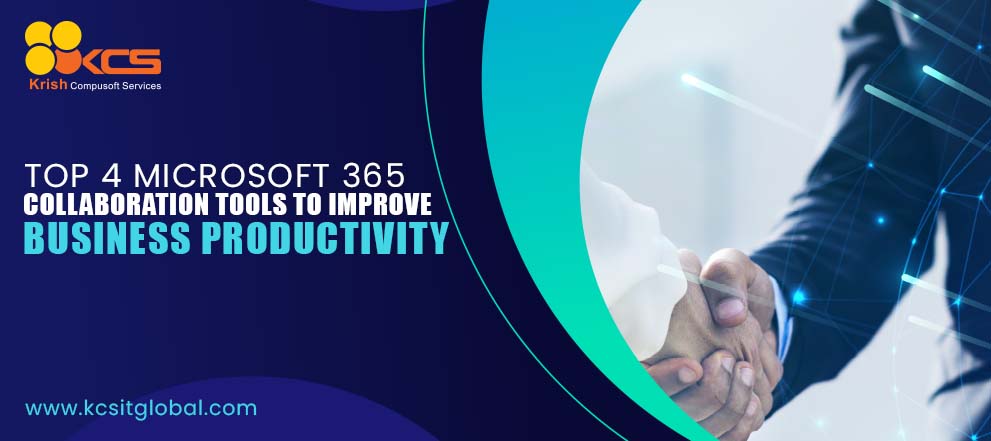 Category:

Hi-Tech
Top 4 Microsoft 365 Collaboration tools to Improve Business Productivity
Do you know that social collaboration is used by up to 80% of businesses to improve business processes and productivity?
These days, especially after the outbreak of a pandemic, collaboration tools have become critical for a successful business or workplace. A significant number of employees and businesses are continually adopting the remote or hybrid working strategy; thus, communicating and collaborating from different geographical locations is a challenge for them. According to the research, with 17%, collaboration and communication are the third-most critical challenge encountered by employees while working remotely.
To address this issue, Microsoft has developed a real cloud solution that allows organizations to cooperate and communicate successfully across the globe. Businesses are now able to rethink productivity, improve employee experience, speed up innovation, and gain competitive advantages by creating a digital workplace with Microsoft 365 remote collaboration solutions.
Let's explore in detail about top 4 collaboration tools of Microsoft 365.

Top 4 Collaboration Tools to Improve Business Productivity
Microsoft 365, one of the most popular platforms offer a bunch of tools that allow businesses of all sizes to boost the productivity of their employees, and get closer to accomplishing their goals. Its success is most likely related to the strength of each solution. Dozens of tools and apps with unique and advanced features empower business processes and operations.
The four most important Microsoft 365 collaboration tools that organizations should use to boost productivity are listed below.
1) Microsoft Team:
Microsoft Team comes under the Office 365 productivity suite which has been launched in the year 2016. It is a collaboration platform with unifies of chat, voice and video calls, file sharing.
The primary goal of developing this productivity tool is to improve communication and collaboration between remote workers as well as on-premise employees. Since its first release, Microsoft has been continually updating the software.
Reasons why Microsoft Team is the right solution for your business:
Empower the collaboration: Microsoft Team is an ideal solution for your business if you want to empower and facilitate teamwork. Teammates may connect directly utilising this tool rather than using a time-consuming platform for conversation and file sharing, such as email. They also don't need to request a new version of the file every time because they can observe changes in real-time. Additionally, you may make modifications, post comments, and share feedback.
Flexible and interactive meeting: Meeting via Microsoft Team is one of the closed real-time experiences that can leverage by your remote employees. Also, employees feel more connected as a result of its personalised and collaborative capabilities.
Third-party app integration: Microsoft Team is much more than just a communication platform. It is integrated with Office 365 suite with over 30 applications, it provides faultless synergy.
2) SharePoint Online
SharePoint Online is a robust web tool that enables users to more easily collaborate and share information throughout the enterprise. We can also put it in the simple word "a cloud version of SharePoint". As a result, SharePoint Online, like SharePoint, allows users to share, store, and seamlessly manage content.
Reasons why SharePoint Online is the right solution for your business:
Easy to manage and cost-effective: Since SharePoint become a web-based application hosted in Microsoft's cloud environment, your organization does not need to purchase or install any new gear.
Multifunctionality: This Office 365 collaboration tool includes a number of advanced features and is quite adaptable. It can be used as an internal website to keep information, news, and schedules up to date within the organization.
Advanced security: Advanced security features in SharePoint Online authenticate users and prevent unwanted access to critical data. Access to data and shareability are optimised to protect data integrity. You may also specify security settings for documents, folders, sites, and libraries.
3) Yammer
Yammer is an enterprise social networking tool just like "Facebook for business", also another major collaboration tool of Microsoft 365. It enables employees to exchange information, submit updates, and communicate with one another.
According to the study, 85% of Fortune 500 companies are utilising Yammer to boost employee collaboration.
Reasons why Yammer is the right solution for your business:
Enhance culture and build connection: Yammer also serves as a hub for messages and announcements that establish and reinforce your company's culture. Developing a culture is one of the reasons why companies are continuously adopting Yammer tools.
Effective knowledge sharing: Employees may acquire useful answers to crucial queries by communicating with co-workers quickly and simply. Yammer may be used to keep track of customer information, double-check appointment timings, and seek guidance from more experienced employees.
It fosters transparency: In an organization, Yammer has a way of encouraging trust and transparency. Companies use Yammer to build easy standards for their businesses' successes and updates. This keeps everyone informed about what teams are working on, who is driving projects ahead, and what will happen next.
4) OneDrive for Business
OneDrive for Business is an essential component of the Office 365 collaboration suite which has been launched in the year 2007. This platform allows businesses to store, share, and sync their work files in the cloud.
It allows your employees to keep track of all the modifications made by the teammates to a document. Instead of emailing huge files, teammates can share the document's link with their colleagues.
Reasons why OneDrive is the right solution for your business:
Data storage in the tens of gigabytes: OneDrive provides a whole Terabyte of data storage to all of its users. That's nearly 2 million hilarious cat pics! With so much storage capacity, the options are nearly unlimited.
File sharing and access permission: ODFB allows for more precise control over who has access to certain documents and what actions they can take on them. You may make a shared link expire, control external sharing domains, and restrict external sharing for certain users. Businesses can also take advantage of the enhanced capabilities for auditing external sharing invites.
Version control: OneDrive for business offers a version control feature to its users which make the collaboration amongst the team. By default, ODFB keeps the last 25 versions of the document and as a user, your employees can adjust this count as per the requirement.
KCS Capabilities
Krish Compusoft Services (KCS) is an international CMMI Level-5 appraised organization that provide a broad range of services including Microsoft business collaboration. Through the implementation of Microsoft Business Collaboration, KCS continues to assist the business in increasing productivity by strengthening employee collaboration and communication. We offer software installation, integration, and training to guarantee that organizations can make use of all of the product's features.
KCS Fulfilment
KCS has recently completed the project of India's one of the leading real estate companies in order to enhance team collaboration. The client required a document management solution that would enable the team to collaborate effortlessly. As a result, we provided the client with advanced document management software that allows them to upload documents, keep track of versions, scan and download documents, and much more. To offer such an advanced solution KCS's experts utilized Microsoft 365 SharePoint and digital transformation technology.
KCS Outlook
Organizations of all sizes, in every sector, require a consistent and standardised collaboration and communication process. Using a platform that allows for a mix of communication techniques is one approach to ensure that your company can communicate properly. Microsoft 365 suite gives your employees the greatest tools and solutions for collaborating on any type of work, anytime and wherever they are.

Recent posts
March 30, 2022

November 04, 2021
Articles
February 02, 2022

November 15, 2021
Global Presence
For 360o business innovation across the globe, get in touch!