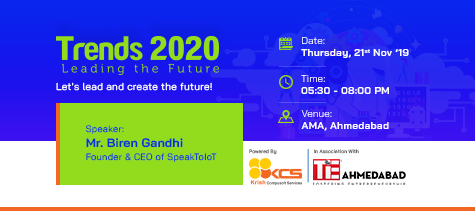 In association with TiE, KCS is all set for Tech Meetup to unlock the latest Technology Trends of 2020
Krish Compusoft Services has organized yet another event to shower knowledge upon the trending futuristic technologies like AI, IoT, Voice, and Automation. Changing with pace is the ultimate essence of digital transformation and keeping up with the market. With such innovative Meetups, KCS strives at embracing and leveraging futuristic technologies.
None other than Mr. Biren Gandhi can optimally take us to the journey of exploring something new. Biren at SpeakToIoT strives to connect everything through voice. He has almost two decades of experience at technology Avant-garde. He was a Divisional CTO at Zynga. He led the organization's drone program at Cisco and was also an early member and senior architect at Facebook. He is also a co-founder of a social platform for advertising.
With profound knowledge on all the four trending technologies, Biren in association with KCS and TiE is all set to collaborate and share knowledge with more tech enthusiasts. Register and join us in the meetup to discover more insights: https://bit.ly/36ZZIAV
Recent posts
November 04, 2021

August 15, 2021

August 12, 2021
Articles
Global Presence
For 360o business innovation across the globe, get in touch!