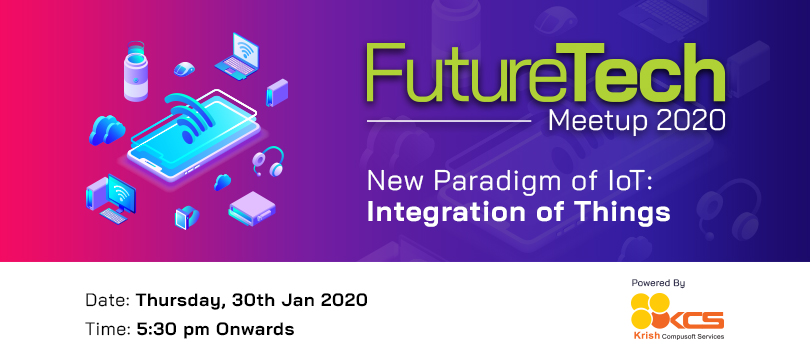 Tech Enthusiasts of KCS are Coming Together to Culminate the Paradigm Shift of IoT towards Integration of Things
Yet another tech meet up is on the way for the enthusiasts who wish to unlock the possibilities in IoT. Krish Compusoft Services has always focused on the mantra 'learn together and grow together'. The company has been organizing tech meetups from time to time for the enthusiasts packed in their 9 to 5 schedule but have a deep desire to learn and explore new techno trends. In this series of meetups, KCS has come up with one of its kind topic New Paradigm of IoT: Integration of Things.
Head starting 2020 with this interesting topic is just like the icing on the cake. As we know, the IoT ecosystem is not just limited to a single domain as it can accommodate experts from all the verticals. It's high time to redefine IoT. KCS's main aim of this meetup is to build an acute ecosystem for IoT and chalk out collaborative ways with other stakeholders.
KCS is proud to announce that our very talented IoT enthusiast Mr. Kunal Bhatt will be the prime speaker of the event. Mr. Bhatt is an OT professional in IoT and possesses an experience of over 20 years in the industry. He and his team would address the topic and would also try to resolve the related queries in the quick question-and-answer round.
Here is the quick link for registration. Hurry!! Book your seats today : https://www.meetup.com/Silicon-Valley-Future-Technology-Meetup/events/268106229
Recent posts
November 04, 2021

August 15, 2021

August 12, 2021
Articles
Global Presence
For 360o business innovation across the globe, get in touch!