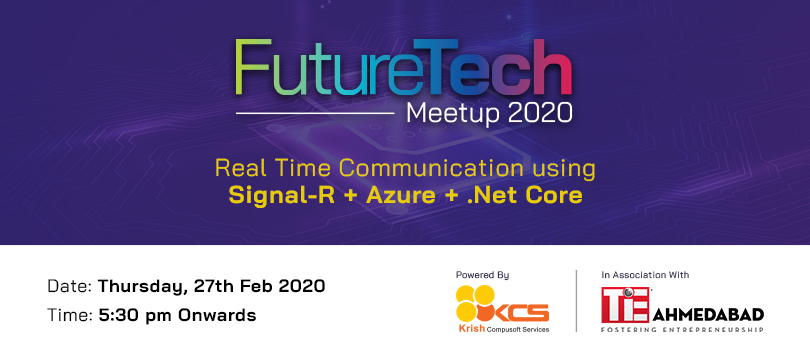 KCS and TiE are again coalescing for erudite meetup on Real-Time Communication using Signal-R + Azure + .Net
In the series of Future Tech Meetups organized by KCS every month, February has been dedicated to the topic, 'Real-Time Communication using Signal-R + Azure + .Net'.
Knowledge sharing has always been an important mantra of KCS. The company has been organizing tech meetups and seminars time to time to educate the teamies about the recent developments in the field of technology (which they otherwise cannot do due to their busy schedule). This meetup on Real-Time Communication is a part of the series.
The tech enthusiast Mr. Ronak Patel would be the prime speaker of the event. In this meetup, he is going to tell how and why signal-R is important for real-time communication. Also, he would highlight the role of Azure and .Net in the same.
Not only this, in this Meetup, you will get the in-depth fundamentals of Real-time communication over the web. Simultaneously, we will also develop a sample polling application step by step.
You Can Register Yourself for the Event from Here: https://www.meetup.com/Silicon-Valley-Future-Technology-Meetup/events/268821098/
Recent posts
November 04, 2021

August 15, 2021

August 12, 2021
Articles
Global Presence
For 360o business innovation across the globe, get in touch!