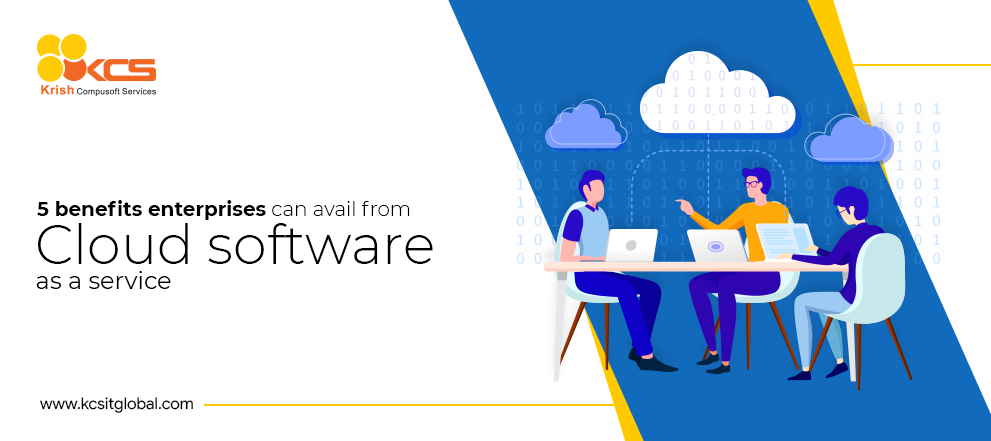 Category:

Hi-Tech
5 benefits enterprises can avail from cloud software as a service
Since the evolution of the internet, we humans have always needed better ways to store and manipulate our data whenever required. While in the pre-computer era, all the valuable information was stored physically on the paper, today; data is mainly stored in the hard drives of computers or servers. These hard drives and servers are capable enough to store, retrieve, and process a huge amount of data faster and more conveniently.
Nevertheless, hard drives and serves both have their limitations, and the rate at which today's businesses are growing, the requirement of storage that is capable to store and process a significant amount of data is one of the top priorities. This is where cloud computing as service comes handy. Before the invention of cloud computing platforms, enterprises primarily depended on servers, databases, software, hardware, and other resources to take their business online. Organizations have to buy these components to assure their website or application reached their target audience.
In addition, companies also required a dedicated team of experts to manage the hardware and software, and monitor the infrastructure. Even though this approach seemed practical, it has its own unique issues such as higher cost of setup, complex components, and limited storage space, etc. are some of them. Cloud computing as specially designed to address these problems.
What is Cloud computing?
Cloud computing is nothing but a network of remote servers hosted over the internet to store and retrieve data. It provides a variety of IT services like servers, databases, software, networking, and virtual storage. In simple language, cloud computing can be defined as a virtual platform that enables you to store and retrieve your data on the internet without any kind of limitation. Companies that render cloud computing as a service are called cloud providers. They offer you the ability to store and access data and run applications, and managing them through configure portals. AWS cloud SaaS services, Google cloud SaaS services, and Azure SaaS services are some of the popular cloud providers today.
Let us explore the top 5 benefits that business can get from cloud software as a service
1. Speed:
If you are looking for an IT resource or service from the cloud, it is available almost right away and simultaneously ready for production virtually. This means that the products and services hit the market almost immediately, a considerable benefit over using a legacy environment. This has helped several enterprises' services generate revenue much sooner after they are launched.

2. Pocket-friendly:
Planning and purchasing the perfect hardware has always been a challenging task in the traditional legacy environment. If you buy equipment that doesn't fit your needs, then chances are you may need to live that purchase indefinitely. But for the cloud SaaS services, this is not an issue, as you do not need to buy any hardware. Instead, you pay to use the host's hardware, and once it doesn't fit your business requirements, you can release and replace it with a better configuration. In this way, you can save a lot of money as you only pay for the time you use.
3. Scalability:
In the legacy environment, foreseeing demands is a full-time job, but with AWS cloud SaaS services, you can efficiently set up an automated monitoring tool to execute complex tasks for you. That data will help you accurately upscale or downscale the rate of work you do depend on the needs.
4. Accessibility:
Cloud computing enables you to retrieve resources, data, applications, and services from anywhere you want, as long as you have an internet connection. If you are not connected to the internet, some tools and techniques will grant you permission to access the cloud whenever needed.
5. Enhanced security:
Assuring that your data is stored in a secured and durable is the top priority for all the enterprises. The cloud software as a service offers a highly secure storage facility for the customers' data, yet letting it be accessed anytime and anywhere that it's required. Most importantly, all the data stored over the cloud is encrypted and secured so that it cannot be tampered with.
Types of cloud computing:
Cloud computing is multiplying that results in it being classified into various categories. However, out of several categories, there are six that stand out. These six categories are later divided into two parts: first is cloud-based deployment, and second is a cloud-based service.
Cloud computing is categorized into three categories according to deployment, including:
Public cloud
Private cloud
Hybrid cloud
The rest of the three categories are divided based on the services they render, including:
Infrastructure as a Service (IaaS)
Platform as a Service (PaaS)
Software as a Service (SaaS)
Conclusion:
By the end of 2020, 83% of the total organizational workload is expected to be shifted on the cloud, and 75% of all the non-cloud apps are predicted to move to the cloud. Several enterprises and businesses are looking for innovative ways to incorporate cloud software as service for better data storage opportunities, scalability, and various other services that cloud renders. If you are a startup or big organization and planning to adopt cloud computing into your business, then KCS is the best place to get it done. For more than 2 decades, they have helped enterprises all across the globe in incorporating cloud services into their ecosystem.

Recent posts
March 30, 2022

November 04, 2021
Articles
February 02, 2022

November 15, 2021
Global Presence
For 360o business innovation across the globe, get in touch!