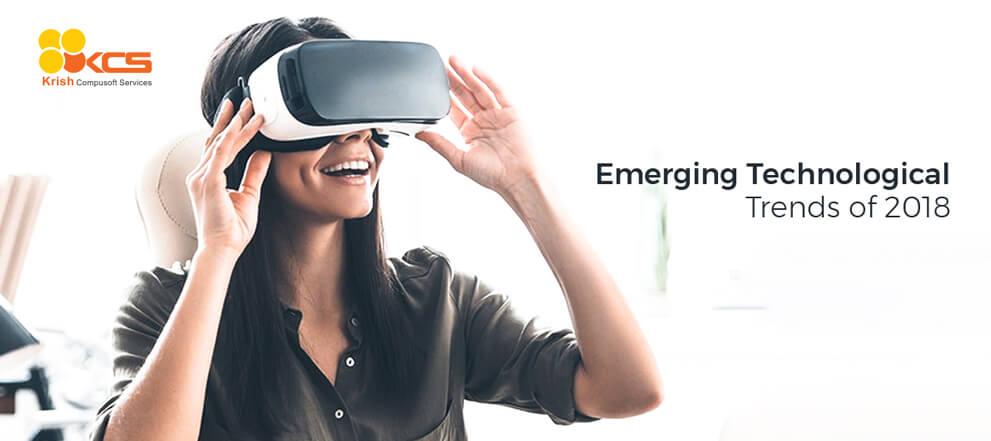 Category:

Hi-Tech
Emerging technological trends of 2018
Technology is one of the most omnipresent catalyst for change in the present world and is moving rapidly bringing in new and emerging trends. It has the matchless quality to provide innovative solutions to the global challenges. The rising technologies have acquired a radical shift in the data, innovation and development sector.
It has left an impact on the other industries including sales and marketing businesses. For mapping the forthcoming technology proposal, the organizational leaders have to first identify the emerging technological trends. They should acquire the knowledge about the elements of innovation and how it would affect the present and future of the enterprise.
These are the emerging technological trends of 2018:
1) Smart Health Tech
Smart health tech is the combination of Smart Technology with Health. In recent times, enterprises are focused on using advanced technology in order to offer simple, effortless, high-quality and transparent healthcare to the employees and their families at a reasonable cost.
Smart Health Technologies is capable of recording health information from progressively advanced sensors, storing and registering this data automatically and deliver either customized advice or automated actions from the collected data. Health insurance stocks dropped on the news, as industry watchers estimated how new innovation may extensively influence medicinal services.
Tech Market research firm ABI forecasts that organizations will generally embrace remote patient monitoring, with 18 million wearables fused into corporate health programs. The firm predicts that number to bounce to 44 million by 2021.
2) Augmented Reality (AR) and Virtual Reality (VR)
The alluring Augmented Reality (AR) and Virtual Reality (VR) is the recent catchphrase of each and every technocrat. The AR and VR are consistently reviving the way consumers interact with one another and the technology. AR enables the user to merge the real and virtual world. VR technology helps various firms to utilize virtual business training and remote involvement.
AR helps to create a more specific experience for customers, clients etc. Also, the enterprises can rely on VR to create more realistic communication. According to a report, AR and VR will be used by 20% of large businesses by 2019.
AR and VR had already had its advanced impression in the gaming enterprise. Many huge organizations such as Microsoft, Facebook, Google, etc. have already utilized this technology and have realized their astounding results. It also proves beneficial in knowing the changing tastes of the targeted audience and has a lasting impact on the business strategies. Some of the evident examples of AR and VR are Google DayDream, Samsung Gear, and PlayStation VR.
3) Chatbots
According to a prediction, average people will have more conversation with bots than their spouse by 2020. Chatbots are continuing to grow more sophisticated with a reduction in the routine customer care activities. They are improving and enhancing the customer experience. Natural language processing (NLP) lies at the center of Chatbot technology. This same technology is used in voice recognition systems by virtual assistants such as Apple's Siri, Microsoft's Cortana and Google Now. In recent times, Chatbots are used as automated customer service agents which can help enterprise generate unique customer experience.
Chatbots are rapidly understanding the content and the tones. Chatbots are trending a lot because they reduce various tasks and efforts of the firm saving time and cost.
4) Internet of Things (IoT)
IoT is one of the most fascinating areas of focus nowadays. One of the articles of Forbes stated that IoT is going to embrace 30 billion devices by 2020. IoT enables an effective and luxurious lifestyle for the consumers by offering unique experiences and valuable customer interactions. The thought rotates around the nano-sensors circulating in any specific object or human body. As soon as it is connected with the technology, it will have a tremendous impact on many sectors such as agriculture, architecture, medicine etc.
IoT opens a gate for new business opportunities and helps enterprises benefit from new revenue streams, enhanced assets utilization, improving safety and security, increasing productivity, saving cost and various other efficient processes.
5) Voice Control and Virtual Assistants
2018 is a year where Natural Language Processing enhances the growth of the enterprise. This year a unique trend of voice control and virtual assistants will continue with other technological innovations.
Voice-regulated assistances have already begun pervading the setting of the enterprise. But a lot more can be explored and utilized in order to unlock the power of this technology. The need and demand for such technologies are high so that it can elevate today's evolving business settings. We need to upgrade our businesses with digital assistant technologies that are trainable and also reliable, smart, accurate, predictive, having the capability to learn, and can rapidly adapt to the new and changing environment.
In short, voice control and virtual assistants helps in increasing the productivity of the enterprise. Moreover, it also helps in improving the work-life balance. In the long run, it possible that voice assistants may replace our computer screens and keyboards.
Recent posts
March 30, 2022

November 04, 2021
Articles
February 02, 2022

November 15, 2021
Global Presence
For 360o business innovation across the globe, get in touch!