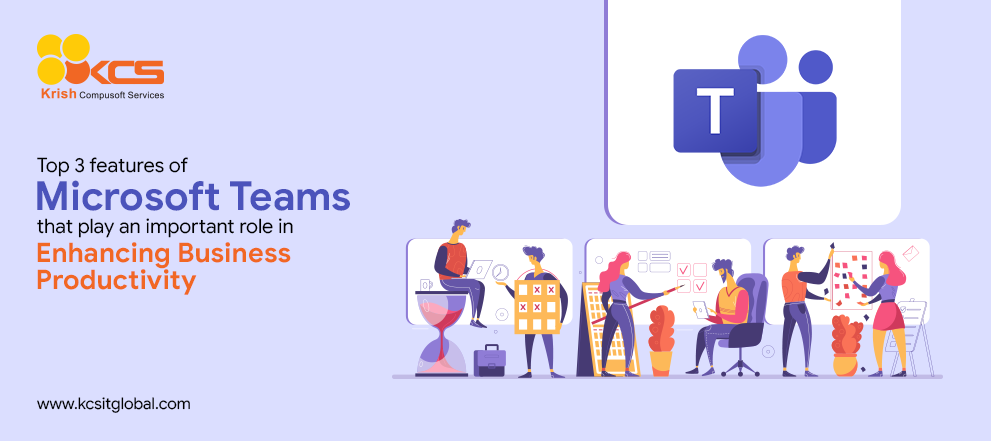 Category:

Hi-Tech
Top 3 features of Microsoft Teams that play an important role in enhancing business productivity
According to Owl Labs study, globally 16% of enterprises are completely remote. The study also found that 62% of the workforce aged 22 to 65 claim to work remotely at least occasionally. It also shows that 44% of organizations do not allow remote work of any kind. All thanks COVID-19 pandemic, the world has observed a sudden rise in the remote working environment. But this transformation was never going to be completely temporary.
As the pandemic winds down, more and more companies are reopening, but the way they work will be completely different. Research from PricewaterhouseCooper demonstrates that several enterprises want to keep a portion of their workforce remote. Rest will migrate employees to hybrid schedules, where they change between remote work and on-premise. This expected transformation constitutes an important question: how will employees collaborate when they are scattered and constantly moving? What about combining various new low-density offices, or working with sales and service staff in the field?
A combination of voice, video, and workspace applications have all tried to bridge the gap until now. However, as the post-pandemic normal mode of working takes hold, several enterprises will have to find a new solution, yet again, that meets all their workers' diverse requirements. The best answer for a lot of enterprises will be a consolidated collaboration platform, the most effective of which is arguably Microsoft Teams.
What is Microsoft Teams?
In November 2016, Microsoft Teams was launched as a part of the Office 365 productivity suite. It is a collaboration platform that combines voice, chat, video, and file sharing. Microsoft Teams is designed to be used by remote, local, and distributed workforce – anyone in any company. Since its initial release, Microsoft has updated Teams on a regular basis. A cluster of new features has been added throughout 2020 and into 2021 as demand for inclusive collaboration tools has exploded.
Interesting facts about Microsoft Teams
Instead of Skype, Microsoft packaged most of its collaborative business apps into Teams. In 2017, migrated Classroom to Teams and announced it'd discontinue Skype for Business. The company observed a sudden surge in users during the pandemic, rising from 20 million users in November 2019 to 44 million in March 2020 to 75 million by April. According to Aternity, a digital experience management company, Microsoft Teams usage growth surpassed Zoom from February to June.
Microsoft gained 95 million users in 2020, making Teams, one of the fastest-growing apps of the pandemic
Currently, it has 145 million daily active users, up from 75 million last year
Approximately, 500,000 enterprises use Microsoft Teams as their default messaging platform
It is assessed that Microsoft Teams generated $6.8 billion revenue in 2020, a whopping 700% growth than past years

Top 3 features of Microsoft Teams that can increase business productivity
1. Provides Secure Collaboration internally & externally:
Microsoft Teams is equipped with all the security features of the broader Microsoft 365 suite. These security features include two-factor authentication & encryption in transit and at rest in the cloud. Data in Teams caters to ISO-27001 and SOC 2 and SOC 2 compliance. It can be operated to meet several strict industry data security standards like HIPAA patient data restrictions in healthcare. Teams might be locked down and secure, but it does not restrict you from easily working with external or internal collaborators. The administrator can create guest accounts for Teams within Microsoft 365 Admin Center. This is a promising way to collaborate over calls on channels with clients, contractors, business partners, or any other external stakeholder.
2. Enhance data visibility and governance:
Microsoft Teams provides entrepreneurs excellent insight and visibility into work conducted within the organization. As all the conversions in Teams are relentless, conversions become valuable information assets available to Microsoft 365's management tools and governance. For instance, conversions and files in Microsoft Teams channels are all saved in the Microsoft 365 cloud, making that data accessible to Microsoft Graph, Microsoft 365's data intelligence console. You can view which channels users are working in, how they are conversing, see when work accelerate or slows down among many other things.
3. Microsoft Office 365 integration:
Microsoft Teams is without doubt tightly coupled with the rest of Microsoft 365. Users can generate and manage Excel, Word, PowerPoint, and OneNote files within their channels and work with other content in the team's SharePoint websites. Teams also integrate Microsoft Power Apps. It enables any user to make a low-code app and share it with their team. For instance, they can script the entire workforce to launch when a salesperson informs their ops channel in Teams that they are onboarding a new client.
KCS Capability
As a certified Microsoft Certified Gold Partner, we are continuously targeting to progress the enterprise-level innovations to our customers. Furthermore, we are authorized cloud service provider including complimentary value-added services as a part of using us as a cloud reseller. We have helped hundreds of enterprises in migrating to Microsoft Azure Cloud and ensured seamless changeover from the conventional on-premise system.
KCS Fulfilment
In our recent project closing spree, KCS organized a virtual training program to assist employees of a renowned US-based company on various features of Microsoft 365 Suite. The client had upgraded their migrated their document management system to Microsoft 365 suite and lacked technical knowledge of the same. Most of the workforce of the client's organization was from a non-technical background, henceforth they were encountering hardships in operating several apps of Microsoft 365 suite like Teams, Word, SharePoint, Excel, etc. The client approached KCS with an idea to adopt Microsoft 365 Suite and train their employees in operating various apps of the same. Experts at KCS decided to organize a virtual training program wherein they trained employees of the client's company on how to use numerous apps of the Microsoft 365 suite.
KCS Outlook
For enterprises seeking a cloud-based collaborative workspace for their distributed users, Microsoft Teams is proved to be the best possible solution available. It is a rich mix of communication, automation, collaboration tools that can amalgamate together working groups in even the most challenging scenario.
Recent posts
March 30, 2022

November 04, 2021
Articles
February 02, 2022

November 15, 2021
Global Presence
For 360o business innovation across the globe, get in touch!