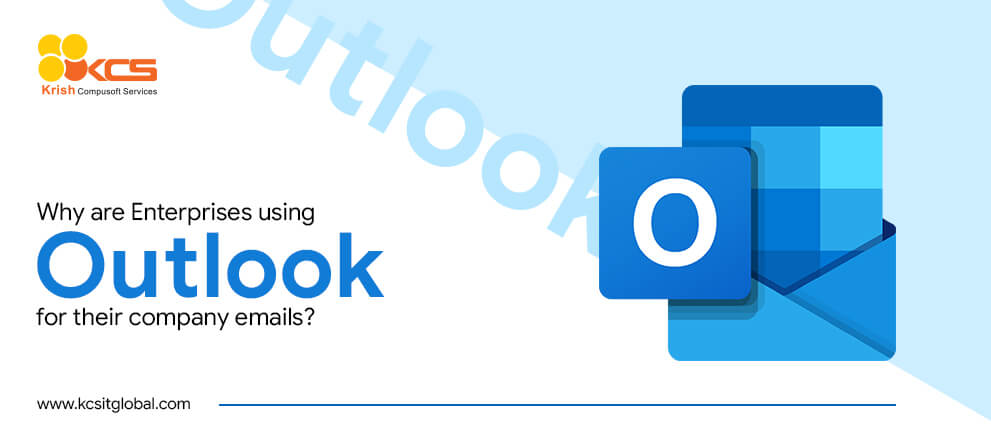 Category:

Hi-Tech
Why are Enterprises using Outlook for their company emails?
There is no doubt in the fact that emails are one of the most popular methods of communication in the business world. According to Statista, 3.9 billion users sent email messages in 2019 and this number is anticipated to sky-rocket to 4.3 billion by 2023. Almost all industries are using email, with marketers using it to send personalized offers, customer support messages, order tracking updates, useful articles – the list is endless.
Today, the way people access email is also shifting. Before smartphones were pervasive, most people read emails on desktop or laptop computers. Nonetheless, a recent study confirms that today, approximately 55% of emails are accessed from mobile devices first. Sadly, emails are not always completely valuable and relevant. Statista statistics shows that spam messages accounted for 54.68% of email traffic in September 2019.
With plenty of time spent on email, it is pretty obvious that choosing the right email package is really important. There are a lot of email systems available in the market and Microsoft Outlook is one of them. Are you planning to use Outlook as your enterprise email or does your company use Outlook? If so, you must what Microsoft Outlook is used for? That's where this document will come in handy.
What is Outlook Email?
A lot of you might already know that Outlook is email software included with a paid Microsoft Office 365 subscription. And you'd be right. But Outlook is more than just email. It can help you arrange your schedule with a calendar and task lists, save contact information, send reminders, and a lot more. In addition, Outlook is also referred to as a personal information manager. If you are planning to use Outlook for your business and email requirements, it is essential to understand that there might be some differences in the tool depending on which version you are using.
Outlook has been around since the late 1990s, and there have been a lot of modifications over the years. With older versions, there might be some variations in the UI and some of the latest features may be missing. If you do not have the premium Microsoft Office 365, do not worry. You can use Microsoft's free web-based email, Outlook.com. This version has many of the same features as the desktop one.
Outlook.com vs Microsoft Outlook. What is the difference?
A lot of people refer to Outlook email when they are really talking about the free web-based version. Not only are the names of the two software packages are same, but they also share some features. However, there are some major differences. Here's what you must know about the difference between MS Outlook and Outlook.com.
Microsoft Outlook is a part of your Microsoft Office subscription, that also includes the latest Office software. Whereas, Outlook.com is a free web-based email package that comes with some of the features of Outlook.
Microsoft Office does not have any ads. On the other hand, Outlook.com have visible ads.
Outlook could be configured to run on your mail server, making it perfect for enterprises. Outlook.com operates on the web.
The combined file size limit of Outlook.com is 20 MB. For enterprise business accounts, the combined file limit starts with 20 MB.
What is Microsoft Outlook used for?
Here's the complete list that shows what is Microsoft Outlook used for:
Email
Calendar
Address Book
To-do list
Track sent messages
Send attachments
Schedule resources
Sort messages using rules
Add graphic elements
Share your desktop in an email
Have live conversations
What benefits do Enterprises get from Microsoft Outlook?
1. Intuitive search facility:
While any email system will be expected to have a search feature, Microsoft Outlook enables you to find not only emails but also calendars, task manager, and contact manager. In effect, it is a one-stop solution that allows users to search right across the complete range of services available as a part of Microsoft Outlook.
2. Easy Organization:
We are certain that you must have received emails that contained details of future meetings with your colleagues. Microsoft Outlook enables you to synchronize your emails, calendar/contact lists, and add meeting information directly into your schedule. At the click, you can view what's on your plate for the next week.
3. Security features:
As we all know that there is an ever-increasing danger from fraudulent and phishing emails. Even though we know exactly what to look out for, and what not to click on, but sometimes in hustle and bustle, it is easy to forget. All thanks to Microsoft Outlook's significant protection that comes with a built-in email scanner which will alert you to the possible problem of communications. The Microsoft Outlook download feature is also scanned and secure for added confidence. At any point in time, you can also disable live links and block users through the system set-up.
KCS Capabilities
With the Microsoft Gold partnership, KCS has achieved competencies that include networking infrastructure, advanced infrastructure solutions, azure development, and a lot more. Our Microsoft Technology Practices allow us to serve a global client base, from industries such as retail, finance, manufacturing, hospitality, etc. The Microsoft certification enables us to learn and leverage the latest solution of Microsoft.
KCS Fulfillment
In our recent project closure streak, experts at KCS offer virtual training solutions to assist employees of a renowned US-based company on various features of the Microsoft 365 Suite. When the company decided to shift their document management system to Microsoft 365 suite from G Suite, they lacked technical knowledge of the same. The client approached KCS with an idea to adopt Microsoft 365 Suite and train their employees in operating various apps of the same. Experts at KCS decided to organize a virtual training program wherein they trained employees of the client's organization on how to use numerous apps of the Microsoft 365 suite like Outlook, Teams, MS Whiteboard, SharePoint Online Site, etc.
KCS Outlook
Microsoft Outlook might have been around for several years, but it has been continually enhanced and upgraded. Sadly, a lot of people do not completely appreciate the user-friendliness of the service let alone the additional add-on facilities. The capacity to manage your time more efficiently, work off-line and also consolidate all the services together must not be overlooked.
Recent posts
March 30, 2022

November 04, 2021
Articles
February 02, 2022

November 15, 2021
Global Presence
For 360o business innovation across the globe, get in touch!