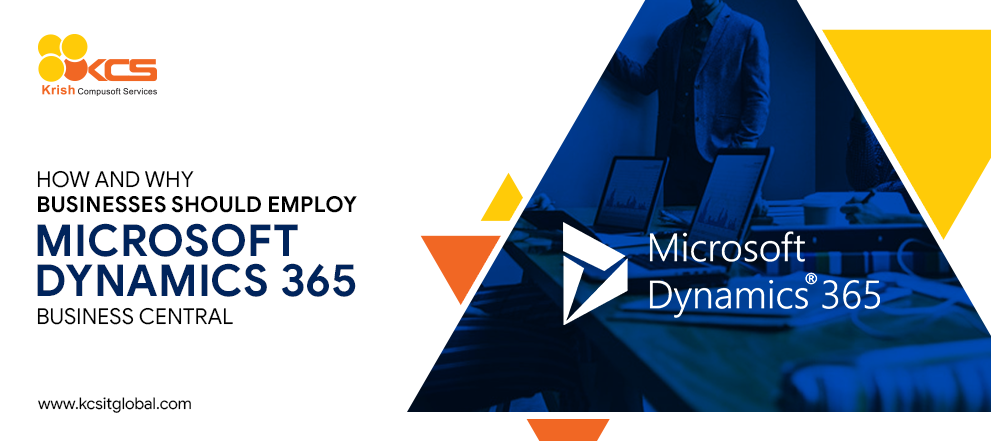 Category:

Hi-Tech
How and why Businesses should employ Microsoft Dynamics 365 Business Central
Nowadays, cloud services are essential for enterprises undergoing digital transformation. Do you know, 92% of organizations already have a multi-cloud strategy? And Microsoft Dynamics 365 Business Central, the cloud solution is also playing a critical role in order to make your business digitally connected.
Dynamics 365 Business Central is a Microsoft Dynamics Suite-based Enterprise Resource Planning (ERP) solution. It is an all-in-one business management solution developed with a targeted audience of small and mid-sized businesses.
Dynamics 365 Business Central is a cloud-based solution that was initially known as Dynamics NAV. It is the solution that will revolutionise the way you do business by streamlining and automating company processes while also increasing client engagement. Let's look into Dynamics 365 Business Central in more detail.
What Is Microsoft Dynamics 365 Business Central?
Microsoft Dynamics 365 Business Central is a cloud-based unified system that brings together many business departments such as marketing, sales, support, finance, and others to collaborate closely.
It is a CRM system that, in addition to ERP, has the ability to deliver a multi-functional and flexible platform. It is a versatile alternative that allows organisations to run and manage their operations from anywhere at any time.
Who can use Business Central?
Financial manager
Supply Chain Manager
Customer relationship manager
Project and resource manager
HR manager
Warehouse manager
Manufacturing
Microsoft Dynamics 365 Business Central Capabilities

Microsoft Dynamics 365 Business Central comes with smart and modern features that enable businesses to evolve in today's digital age of transformation. Partnering with Microsoft Consultants such as KCS gives your business a better understanding of features, benefits and pricing. Let's give a brief on Dynamics 365 Business Central capabilities.
Financial Management
The solution allows your business to integrate data flow across all aspects of its financial system, including accounting, sales, marketing, and customer service.
Benefits of financial management feature:
Informatic decision: - By connecting business financial data across various departments gives an end-to-end view of your financial status. With built-in Power BI dashboards, you can track financial performance in real-time.
Enhance forecast accuracy: - Model and analyse data across several dimensions to improve financial projections. Easily customise reports using Microsoft Excel connection.
Bank account management: - To enhance financial estimates, model and analyse data across many dimensions. Using the Microsoft Excel link, you can easily customise reports.
Supply Chain Management
Dynamics 365 Business Central provides a supply chain management feature that automates and streamlines each process across the supply chain.
Benefits of supply chain management feature:
Maximize profitability: - Get advice on when to pay suppliers to take advantage of vendor discounts and avoid late fees. Approval procedures might help you avoid making needless or fraudulent purchases.
Optimize inventory levels: - Predict when and what to refresh using a built-in intelligence. With dynamically updated inventory levels, you can only buy what you need.
Warehouse management (basic and advanced): - Depending on a company's procedures and order volume, Warehouse functionality in Business Central may be deployed at various levels of sophistication. The key distinction is that in basic warehousing, operations are conducted order-by-order, but in advanced warehousing, they are combined for numerous orders.
Customer Relationship Management
As part of the essential licence, Microsoft Dynamics Business Central has modest customer relationship management (CRM) features.
Benefits of customer relationship management:
Deliver value to every touch point: - Prioritize sales leads, depending on the amount of money they can bring in. Throughout your sales cycle, keep track of all customer contacts and obtain advice on how to effectively upsell, cross-sell, and renew possibilities.
Improve sales productivity: - Make the quote-to-cash process go faster. From inside Outlook, respond swiftly to sales-related queries, handle service requests, and process payments.
Opportunity management: - Keep track of sales opportunities, divide your sales processes into stages, and utilise this data to better manage your sales prospects.
Project Management
The project management tool in Business Central allows you to plan and manage numerous project tasks within a pre-determined budgetary framework and deadlines. Your projects will be finished on time and on a budget if you use the correct project management solution.
Benefits of project management:
Analysis project performance: - Make informed decisions based on real-time project progress, profitability, and resource utilisation information.
Estimates: - Monitor resource utilisation and obtain a comprehensive picture of your capacity for each resource, including availability and anticipated prices on orders and quotations.
Timesheet: - Timesheets are a simple and versatile solution for time registration that integrates with Service, Jobs, and Basic Resources and requires management clearance.
KCS Capabilities
KCS is a global IT organization that is serving its Microsoft solution to the businesses with the benefits to do business anywhere, connect with their customer, derive business efficiency and profitability, make organization nimbler by innovating and transforming it. We assist businesses in increasing their competitive advantage, scaling and adapting IT infrastructure as business demands evolve, and delivering meaningful business outcomes, all while remaining focused on their success.
KCS Fulfilment
KCS has fulfilled the cloud solution need of South-Africa based leading beverage companies. KCS professionals created a sophisticated data management solution for the clients using Power BI and Azure SQL Database. The technology can conduct intricate analyses on large amounts of data in a matter of seconds. The usage of Power BI made the system more user-friendly, and the customer can run analyses by simply dragging and dropping data. Data retrieval performance has been improved with the help of Azure SQL Database connection. We used .NET Core Web API to create APIs that will assist the system in retrieving data from Microsoft Azure Cloud.
KCS Outlook
By merging all of the aforementioned products with other Microsoft cloud services, such as Office 365, and customising or expanding it for specific sector needs utilising PowerApps, Microsoft Flow, and Power BI, Microsoft Dynamics 365 Business Central provides value. Remember that D365 BC is only marketed and deployed through Microsoft's partner model; thus, engage your Dynamics 365 consultant for a thorough assessment of your organization's needs.

Recent posts
March 30, 2022

November 04, 2021
Articles
February 02, 2022

November 15, 2021
Global Presence
For 360o business innovation across the globe, get in touch!