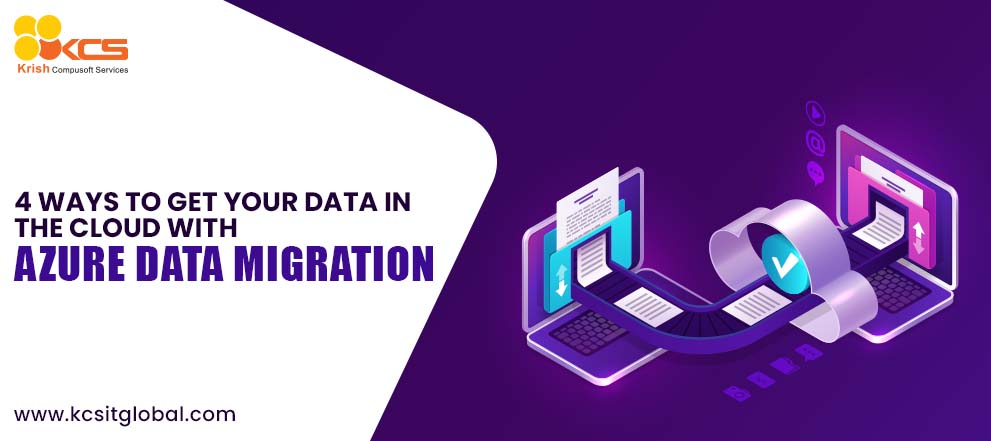 Category:

Hi-Tech
4 Ways to Get Your Data in the Cloud with Azure Data Migration
Cloud migration is the process of migrating data, apps, and other business aspects from on-premises and legacy infrastructure to the cloud computing platform. This phrase also refers to the process of moving from one cloud to another.
Do you intend to move a workload from on-premises to the cloud? Then, the whole procedure feels like a trip to you, where you must double-check everything and ensure that the voyage is completed on time.
But why move to the cloud?
In this modern era, every digital solution comes with some significant benefits, and so does cloud computing. Do you know,
Cloud computing
allows 24/7 uptime (99.99% uptime)? Below are some additional benefits cloud serves to the businesses:
Scalability
Lessen the business cost
Improve performance
Users can access the files and data at any time
Businesses on a large scale enjoying the above benefits of cloud computing and increasingly choosing various cloud platforms over an on-premise workload. Presently, there is a cluster of cloud-based service provider platforms that are acquirable. And Microsoft Azure is one of the most popular among enterprises. As per the collected data, Microsoft Azure has 20% of the total cloud market share.
About Microsoft Azure:
It has been launched in 2010 and currently serving its offerings such as Compute, mobile, media services, data management, storage, blockchain, messaging, CDN, machine learning and AI, developer tools, security, functions, IoT to 55 regions and spread across the 140 countries.
Microsoft Azure is a vast feature platform that almost offers over 600 services to its users and one of the superior services is Azure data migration and a variety of tools to assist with transferring data from your existing platform to their public cloud service.

What is Azure Data Migration Tool?
Microsoft Azure Data Migration includes a set of tools and services to ease the data/database migration process. The purpose behind these tools may be identical but, their use will vary on the type of migration circumstance and the use case.
4 Ways to Get Your Data in The Cloud with Azure Data Centre Migration Solution(H2)
Businesses are flocking towards the cloud following the quick digital transformation and the adoption of work-from-home as a new norm. Research reveals that cloud services are already being used by 94 % of businesses all over the world.
But it is critical to comprehend and confront the scenario of how to move to the cloud, especially with the drive to expedite the cloud migration. Whether your migration is elaborate, it's crucial to examine the essential elements of the process. IaaS, SaaS, and PaaS are the three main phases of cloud migration.
The Microsoft Azure Data Migration tools are decisive in simplifying the cloud migration process. Let's look at four Azure data migration tools that assist your company move data or databases to the cloud.
1) Azure Migrate:
Azure migrate is a centralized place where you can track, evaluate, and execute all steps of your data migration. It includes a list of services that the company can utilise in the context of the migration use case.
Azure data migration offers two vital servers: Azure Migrate – Discovery & Assessment and Azure Migrate – Server Migration.
| Azure Migrate Tool | Assess and Migrate | Detail |
| --- | --- | --- |
| Azure Migrate – Discovery & Assessment | Discover and evaluate servers, including SQL and web applications. | In preparation for migration to Azure, identify and analyze on-premises servers operating on VMware, Hyper-V, and physical servers. |
| Azure Migrate – Server Migration | Migrate servers | VMware virtual machines, Hyper-V virtual machines, physical servers, other virtualized servers, and public cloud virtual machines may all be moved to Azure. |
Azure migrate is built-in with the following features:
Unified migration platform
Range tools for assessment and migration
Discovery and assessment
Server migration
When to use it?
The lift and shift is a well-known business migration method for moving programmes to the cloud. It implies that you may migrate the entire application, as well as the data associated with it, to the cloud without having to rebuild it. But also, the risky one.
This is why companies should create a migration strategy before embarking on their migration journey. Azure migrate tool is the optimal solution for lift and shift migration. This tool is convenient if you want to manage the bulk of work that must be done in the front end and for Azure's cost-efficient solution to migrate.
2) Azure Data Migration Services:
The Azure data migration service is one of the most powerful tools for simplifying, guiding, and automating your data migration to the cloud. It enables your organization to simplify the process of transfer data, schema and objects to the cloud from a multitude of sources.
It supports migration from on-premises and alternative clouds to Azure for Microsoft SQL Server, MySQL, PostgreSQL, MongoDB, and Oracle. This tool allows your business to migrate the database with near-zero downtime.
When to use it?
If you're intending to transfer your whole database then the Azure data migration service is the finest option for you. DMA (Data Migration Assistant) and DMS (Data Migration Service) can assist you in the process by assessing an existing database, performing remediation if necessary, and enabling migration. It is also the most suitable tool for less experienced users.
3) SQL Server Migration Assistant:
Azure SQL server migration is used to migrate the different types of databases to SQL Server. And this whole process becomes easier with SQL server migration assistant as it is designed with a purpose to automate the database migration to SQL Server. Before the actual migration process, this tool provides you with compatibility issues between the source and destination databases.
When to use it?
If you are planning to cover the migration of a relational database such as SQL Server, MySQL, Postgres and MariaDB, then this tool is preferable for you and your business. Also, this makes virtual machines are a viable choice for a wide range of SQL Server applications.
4) Data Box:
The Microsoft Azure Data Box is a tool that lets users to import and export huge volumes of data (over 40TB) into and out of Azure in a quick, inexpensive, and reliable way. You may easily set up the device using the local web UI once it arrives. Copy data from your servers to the device or from the device to your servers, then mail the device back to Azure, depending on whether you'll import or export data.
When to use it?
In circumstances where there is no or restricted network access, Data Box is appropriate for transferring data volumes bigger than 40 TBs. The data transmission might be one-time, periodic, or consist of a bulk data transfer followed by periodic transfers.
Scenarios where Data Box can be used to import data to Azure

One time migration
Initial bulk transfer
Periodic uploads

Scenarios where Data Box can be used to export data from Azure

Disaster recovery
Security requirements
Migrate back to on-premises or to another cloud service provider
KCS Expertise In Azure Data Migration
KCS is a leading USA-based IT company that is also a gold partner of Microsoft and provides cutting-edge Azure migration consulting services and assist organisations in maximising the Azure cloud platform's capabilities via the use of numerous tools and platforms.
Our Azure Migration Services experience assists a wide range of clients in migrating their servers, databases, web applications, virtual desktops, and data to the Azure platform with minimum and no data loss. It enables smooth moves to the cloud in a timely and cost-effective way, with highly scalable processes and systems.
KCS Work
KCS recently completed a project for a leading education and research organisation. KCS's professionals supported the client in migrating their on-premise system to the cloud, allowing them to avoid challenges like hardware replacement, ongoing licence updates, and massive data loss.
KCS Outlook
The migration to the cloud serves numerous benefits to your business and customer as well. If your business is seeking solutions to bring elements such as increased security, optimization, scalability, smart integration, and greater access to business functionalities then, KCS believes that you should consider cloud migration.

Recent posts
March 30, 2022

November 04, 2021
Articles
February 02, 2022

November 15, 2021
Global Presence
For 360o business innovation across the globe, get in touch!