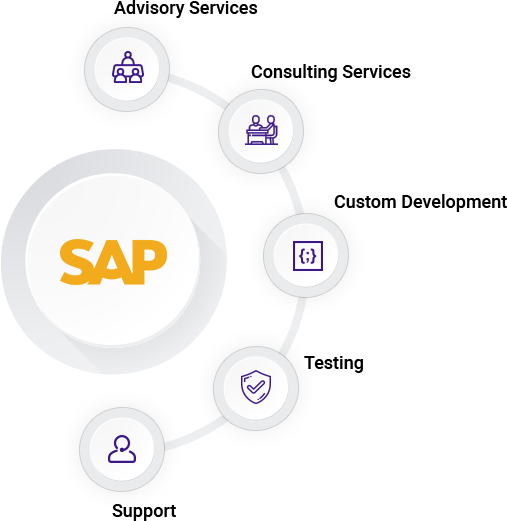 SAP Services
SAP is driving business innovation with SAP S/4HANA as the Digital Core and the SAP Cloud Platform as an innovation enabler. Consulting partners have become trusted advisors for their customers and are helping them drive digital transformation across their organizations through high-speed innovation.
KCS offers an end-to-end portfolio of services for SAP solutions. We help our customers adopt SAP S/4HANA to become an efficient and intelligent enterprise. We then help the business leaders to innovate more and faster, while running day to day business and delivering operational excellence, by utilizing the SAP Cloud Platform as the innovation platform. With this bimodal approach to managing the SAP landscape, we can quickly build and roll out new custom apps, AI, ML, and RPA solutions.
Our SAP services are aimed at designing and enabling net new business models for our customers.
Advisory services
Digital Transformation Blueprint and Strategy
Cloud Adoption
Portfolio and Landscape Modernization
Business Process Re-engineering
Benefit Optimization
Consulting services
SAP S/4HANA Adoption Roadmap
SAP S/4HANA Implementation
Global Rollout
SAP System Conversion and Upgrade
Cloud Migration
Business Analytics
Support
AMS – 24/7 Managed Services
Business Process Outsourcing
End User Enablement
Testing
Testing Automation
Performance Testing
Integration Testing
Custom development
SAP Extensions and Enhancements
Fiori implementation and new apps
Integration Services
Rapid prototyping for AI, ML, Mobile apps
Delivery enablers
Accelerator Toolkit
Robust Onsite-Off shore-Hybrid Delivery Models
Expert Project Management
Quality Assurance Framework
Business Outcome based SLAs
Want to implement business ERP solution? Drop us a line
Why SAP S/4HANA
Enterprises, today, need to be highly consumer-centric – they not only need to stay connected with their customers and suppliers, their workforce, and markets, they must also respond meaningfully and in real-time to get ahead of the competition. They must establish a single source of truth at the core that can become the foundation for digital transformation. This helps the enterprise to seamlessly integrate apps, devices, and networks and serve its customers, suppliers, internal-external workforce, channel and service partners with a unique, unified experience.
SAP S/4HANA is a modern ERP system with embedded intelligence driven by AI and machine learning. S/4HANA delivers clear insights to the users where it matters the most right inside business processes and workflows. The built-in intelligence transforms business processes across all lines of business, from finance, HR, sales, distribution, to supply chain, manufacturing, asset management, customer service, and more. S/4HANA brings the unmatched benefits of SAP HANA and SAP Fiori to the enterprise.
Powered by SAP HANA in-memory database
Dramatically simplified data model and incredible speed with real-time transactions and analytics
User experience driven by SAP Fiori
Consumer-grade UX across devices with conversational AI integration option
Embedded intelligence
Insights delivered at the point of action
Industry jumpstart templates
Get up and running faster with out-of-the-box industry templates that can be customized as needed
Accelerated innovation
Allows easy integration with digital applications on SAP Cloud Platform and other SAP cloud LoB solutions Success Factors, Concur, Ariba, Hybris
Multiple deployment options
Run on premise, on public or private cloud
Our Industries
KCS is a specialist with a great depth of experience across several industries. The team has nearly two decades of a track record of enabling innovative business models for customers in different verticals. We understand that your business needs a services provider, who is not just a technology enabler, but a collaborative business partner, who helps you successfully drive, design, and deliver your digital transformation initiatives.
KCS has nearly two decades of experience delivering a wide range of solutions and innovations to several industries. Out of these, below are our primary focus verticals for SAP services.
Looking for SAP S/4HANA services? Get 30 minutes free consultation now.