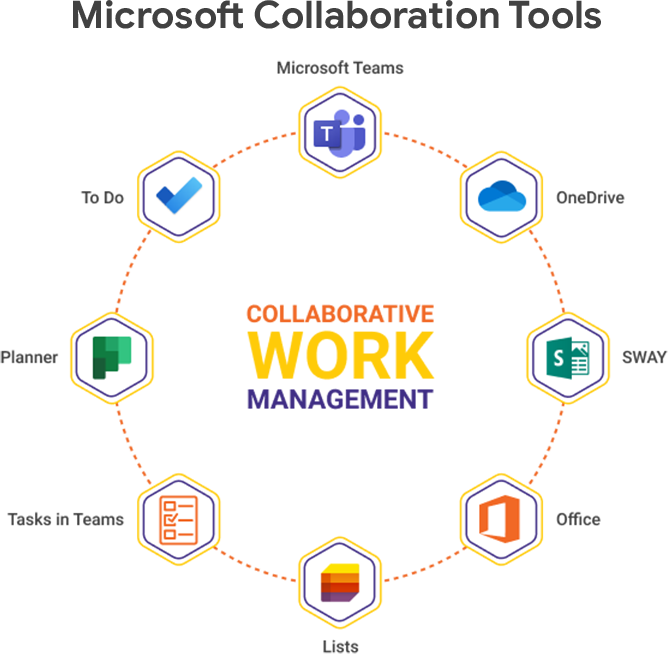 Making way for meaningful collaboration with Microsoft Collaboration Solutions
Many businesses are looking for ways to improve end-user collaboration and productivity. However, getting the most out of a new technology necessitates meticulous planning and a comprehensive understanding of end-user needs. With Microsoft Collaboration Solutions, KCS ensures that businesses capture end-user requirements, break down silos, and maximize their Microsoft collaboration investments.
A modern working environment must not only give essential information for key decisions, but also intelligent and proactive task and workflow support. KCS business collaboration solutions give personal productivity tools that provide targeted assistance for teamwork, simplify process automation, and allow enterprises to accumulate collective knowledge on an organization-wide basis through their overarching information architecture.
We address the enterprise's requirements for a modern workplace using cutting-edge Microsoft technologies. We lay the technical groundwork for global networked collaboration. This includes integrating new company locations into voice and e-mail communication, in addition to high-performance data access. Microsoft solutions like Teams, Outlook, Office Online Apps, SWAY, Power Platform, and others substantially increase employee productivity.
Want to upgrade the collaboration platform of your organization.
Talk to our certified Microsoft experts to know more about the services.
Contact Us
Get moving with Microsoft Collaboration Services
Microsoft Collaboration Services provide important features that help users be more productive. From planning through adoption, we assist businesses in streamlining and optimizing their collaborative deployment.
Meeting end-user expectations
Breaking technology silos
Optimizing adoption & usage
Drive user-based decisions
Accelerate business productivity
Increase the value of your investment
Quick and easy integration with other apps and legacy software
Benefits of Microsoft Collaboration Tools
Microsoft collaboration solutions and services aim to improved communication and collaboration between the dispersed workforce.
Work Better
Together
Make the most of data-driven insights to get the finest Microsoft Collaboration Solutions for your needs.
Best Value of
Collaboration Investment
Receive professional guidance on how to make Microsoft Collaboration products more effective in terms of implementation and uptake.
Strategy
Development
To create and implement your collaboration strategy, draw on Microsoft's extensive experience and expertise.
Digital
Workspace
Get peace of mind with proactive collaboration solution support and maintenance.
Quick Access
to Information
Simple search bars and accessible storage makes relevant information handy.
KCS Microsoft Collaboration tools that digitally transforms your workspace:
Microsoft Teams: Workspace chats, videoconferencing, file sharing, application integration, and other features are available with this intelligent communication and collaboration solution delivered as a cloud service.
Outlook: It's a proprietary email and task management program that is bundled with most Microsoft Office versions.
Office Online Apps: Office Online is a set of Microsoft Office programs that have been streamlined and optimized for use with a variety of web browsers. This includes programs like Word, Excel, PowerPoint, and OneNote.
White Board: Microsoft Whiteboard is a collaborative, never-ending canvas for productive meetings and interesting learning.
To Do, Calendar & Planner: Collaborative tools from Microsoft to ensure seamless operations and management within the organization.
SWAY: It's a Microsoft Collaboration tool designed to make it simple to create and share interactive reports, personal stories, and presentations.
Power Platform: A collection of apps for automating processes, creating solutions, analyzing data, and creating virtual agents.
Do you want seamless Collaboration with your workforce?
Talk to our experts today to learn more about Microsoft Collaboration Solution
Let's Discuss