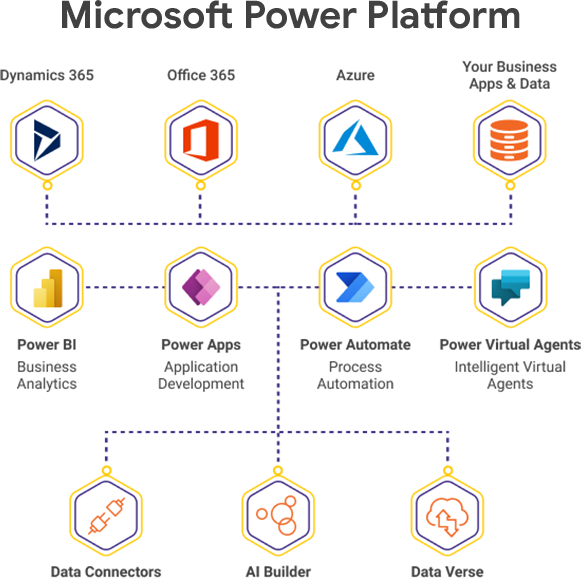 Microsoft Power Platform to enhance efficiency, productivity, and profitability
Microsoft Power Platform is a low-code and no-code development toolset for enhancing Office 365 and Dynamics 365 business products, such as customizing, extending, and building mobile apps, generating automatic workflows, and creating business intelligence. The business workforce may benefit from customizable dashboards that provide top-to-bottom real-time visibility and predictive analytics with integrated artificial intelligence (AI) and machine learning, as well as a flexible business intelligence and reporting model.
Power Platform delivers simple technologies and tools to help non-developers construct applications and automated operations. With the Microsoft Power Platform, KCS can help you modernize the way your business generates solutions, automates processes, analyzes data, and creates virtual agents.
KCS stands out not just by implementing powerful technology solutions, but also by providing unmatched service, support, and experience. We're a Microsoft Gold Partner, so you can count on us to offer value to your business and help you get the most out of your Microsoft Power Platform. You can trust that we'll build a solution with real-world benefits because we have an experienced team with deep knowledge of many of the sectors we serve.
Want to automate your business operations for a better outcome?
Connect with a Microsoft Power Platform expert today!
Let's Discuss
What Is the Microsoft Power Platform?
The Microsoft Power Platform is a collection of technologies that may be used with other Microsoft products such as Office 365, Dynamics 365, Azure, and dozens of others. The Power Platform is a low-code platform that may be used by corporate users. You don't need an experienced developer to create your next app.
Microsoft Power Platform
Microsoft Power Platform is a collection of Microsoft technologies that may be used to create and deploy complex business solutions, analyze and visualize data, automate business processes, and create virtual agents for communication.
Power Apps
Power Apps is a low-code solution that allows the user to create web and mobile apps without writing any code. With Power Apps, businesses can instantly transform their ideas into applications that will help them conquer any challenges. In a no-code environment, the team can get started immediately with pre-built templates, drag-and-drop easily, and publish rollout updates with ease.
Power Automate
Robotic and digital process automation technologies are used by Power Automate to automate repetitive and paper-intensive processes. With Power Automate, an organization will become more efficient right away, allowing the workforce to focus on more analytical activities.
Microsoft's intelligent business tool Power BI is a powerful data analytic tool that lets businesses receive real-time data in a matter of a few seconds. Quality insights give the ability and power to make more informed decisions in a shorter period of time. Dynamics 365 application is completely integrated with Microsoft's Power BI tool.
Power Virtual Agents
The Power Platform's newest technology is Power Virtual Agents. It enables enterprises to create a customer-facing or internal chatbot without the need for any code, hosted VMs, or infrastructure management. Power Virtual Agents may be integrated into current Microsoft systems and are linked with Power Automate features, giving access to over 250 connectors.
AI Builder
It provides AI models to help you improve your business operations. In Power Apps and Power Automate, AI Builder enables your organization to leverage AI to automate operations and gain insights from your data. AI Builder is a turnkey solution that gives you access to the power of AI through a point-and-click interface, so you don't require any coding or data science expertise.
How KCS Can Help
We assist your company in implementing the Microsoft Power Platform so they can quickly add value to the business by developing innovative apps and solutions. Our services include consulting and training, legacy migration, platform, and solution development.
Intelligent Chatbots
Adoption and governance
App modernization
Data insights
Intelligent process automation
Respond rapidly to customer and employee needs with Microsoft Power Platform.
Get a free Microsoft Power Platform consulting today.
Contact Us