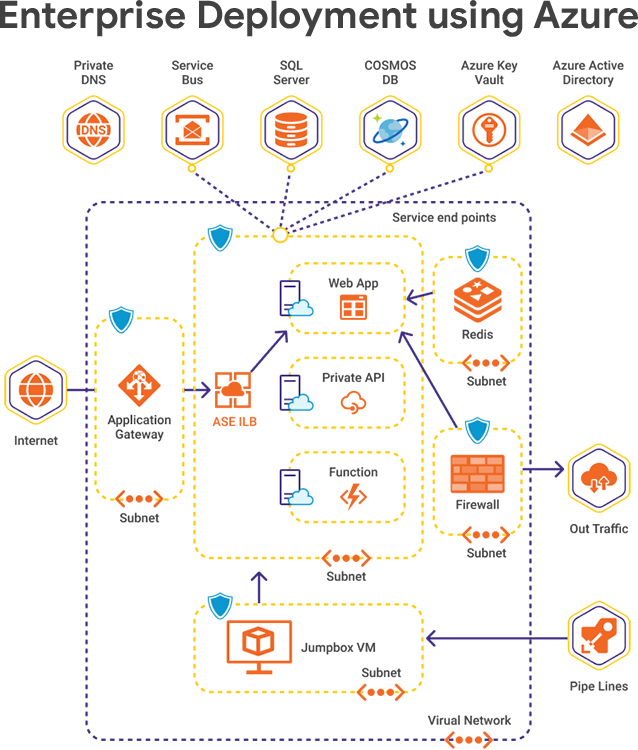 Comprehensive, and effective management of Cloud technologies with Azure Deployment and Management Services
The KCS Azure Deployment and Management solution helps with staged resource rollouts, which means resources are distributed in an orderly manner region by region. The health of services is also checked as part of this region-by-region rollout, and if unacceptable performance degradation is discovered, deployment will instantly stop, allowing troubleshooting and reducing the magnitude of the damage.
Our Azure deployment services follow an organized and dependable approach to ensure that your organization is not exposed to any threats. With in-depth, customized planning, you can create the ideal Azure cloud environment. Our Azure deployment team saves clients time, stress, and cost by leveraging decades of experience in development, hosting, migration, and integration.
Our configuration and management services ensure that your company is up and running in the cloud. Hundreds of Microsoft services use these solutions internally to assure safe, reliable deployments, ensure high availability, and prevent or drastically decrease service unavailability caused by update regressions. We leverage Azure services such as virtual machines, analytics, big data, and the Internet of Things for an executable strategy of all the parts to achieve your ideal Azure Cloud deployment and administration as a Certified Microsoft Gold Partner.
Get comprehensive management of your cloud environment from KCS experts.
Drop us a query for a free consultation.
Contact Us
Our Azure Deployment and Management Solution
Your Azure cloud journey is in good hands with KCS. Our qualified developers and software experts have extensive knowledge in the areas of development, deployment, management, and configuration.
Azure Consulting & On-Boarding
Businesses may avoid costly roadblocks in the future by taking the time to examine requirements against Azure's capabilities. Our Azure professionals offer onboarding services to help you stay on track with your cloud journey
Architecture workshop

Proof of concept

Health check
Azure Cloud Strategy & Planning
A thorough understanding of the Azure platform, its services, and the client's business goals is required when planning an Azure deployment. Each deployment is assessed by our Azure team based on six essential factors
Scalability

Security

Capacity
Performance

Pricing

Resilience
Azure Configuration Service
With our structured deployment solution, you can plan the best configuration for your virtual machines, networks, gateways, DNS, security groups, and load balancers. Our Azure deployment specialists are experienced with both full cloud and hybrid implementations to ensure that your on-premise and SaaS solutions are consistent.
Azure Management Services
Our Azure Management Services continuously monitors, improves, and optimizes your Azure infrastructure. It is meant for best practices, architecture optimal performance, cost, and security.
Assessing Microsoft Azure Opportunities

Azure monitoring and alerting on a continuous basis

Lowering workforce costs and skill gaps
Effortlessly implement new tools and processes

Gain a thorough understanding of your Azure environment
Why KCS for Azure Deployment and Management Services
To achieve the consistency required between on-premise and SaaS systems, cloud and hybrid deployments are used
Certainty of receiving the best configuration in a specific timeframe
Azure services such as virtual machines, analytics, big data, and the Internet of Things are all reliable.
An executable plan that covers all aspects of your Azure cloud implementation
Scalability, security, capacity, performance, price, and resilience are all important variables to consider
Services such as architecture workshops, proofs of concept, and health checks are available as part of the planning process
Get monitoring on a continuous basis with our Azure Deployment and Management Services.
Talk to our experts today.
Let's Discuss