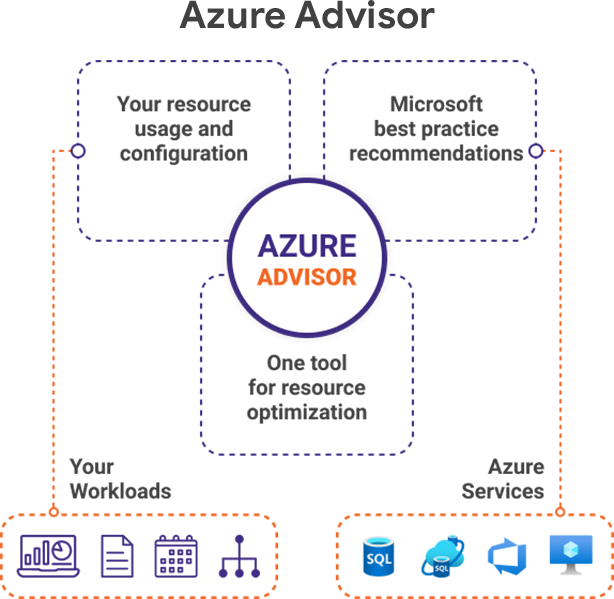 Azure Advisor for improving performance, reliability, and security of VMs
It's great to run virtual computers in Azure. However, there are other considerations that must be made in order to improve performance, security, and reliability. Because the cloud environment is always changing, it's important to evaluate Azure VMs on a regular basis. Azure Advisor is a one-on-one cloud consultant that assists organizations in implementing best practices to maximize their Azure deployments.
The Azure Advisor solution can provide valuable tips for optimizing Azure deployments. Azure Advisor can recommend effective solutions to optimize costs, performance, reliability, efficiency, and security by analyzing resource configuration and telemetry data in use.
The solution works in the background, assessing new resources and automatically intercepting them. It can take several hours to acquire related recommendations after new resources are developed. Azure Advisor can make suggestions for a subscription, resource group, or service. It will also tell the user whenever a new recommendation is available.
Azure Advisor can help you extract the best from Microsoft Azure services.
Drop us your query for a free consultation.
Contact Us
What is Azure Advisor?
Azure Advisor is a one-on-one cloud consultant that helps you optimize your Azure deployments by following best practices. It examines your resource configuration and usage data, then suggests ways to help you increase the cost-effectiveness, performance, high availability, and security of your Azure resources.
How Azure Advisor is helpful for businesses
Azure Advisor comes standard with all Azure settings and helps to easily optimize the resources in the deployments by providing precise recommendations in the categories below.
Costs
It gives advice on how to get the most out of your Azure investment with extra touches that can cut and optimize costs.
Security
Reports on how to protect Azure resources from security risks as effectively as possible.
Performance
The solution can provide useful information in order to increase application speed and responsiveness.
Reliability (high availability)
It demonstrates how to ensure the accessibility of your business-critical applications in order to achieve better service continuity.
Operational Excellence
It emphasizes the approaches to be used to improve the efficiency of processes and workflows, as well as resource and deployment management.
Why Azure Advisor plays a pivotal role in business growth
Get customized advice based on Microsoft best practices for your environment. The recommendations are proactive, and they include proposals for real measures to be taken in order to aid their adoption.
Improve the performance, efficiency, security, and dependability of your Azure resources while also discovering possibilities to minimize overall Azure service spending.
Get in-line suggestions with suggested actions.
Significant Tasks Azure Advisor can Perform
Azure Advisor assigns a score to help you enhance the dependability and performance of your system.
If a VM data backup is not enabled by the user, Azure Advisor can advocate taking a backup.
It also generates Azure Service Health notifications to notify users of Azure Service problems.
It also sends out signals when it's time to optimize the VM by adding or removing instances.
What We Offer in Azure Advisory Services
Onboarding
Setup and walkthrough of subscriptions
Enablement of cost management tools
Azure portal training Additional services Hours with an Azure Architect
Monthly consulting hours with an Azure Architect
Managed Billing
Check your billing for any discrepancies or issues.
Billing separation across several entities for cost allocation depending on Azure usage:
- Subscriptions
- Departments
- Asset tagging
Spend management
Budget creation and setup
Access to Insight's proprietary Budget Overage Protection
Usage tracking and reporting for budgeting reasons
Assistance with resource tagging hierarchy
Assistance with policy formulation for enforcing tags
Knowledge Transfer and Assistance
Weekly office hours with the CSM to discuss questions, issues, and topics
Documentation on best practices for: deployments and migrations
CSM Self-Help and References website
Business Continuity/Disaster Recovery (BC/DR)
Monthly cost optimization and best practice review Resource
Want to derive the best from Azure services?
Talk to our certified experts for detailed analysis.
Let's Discuss