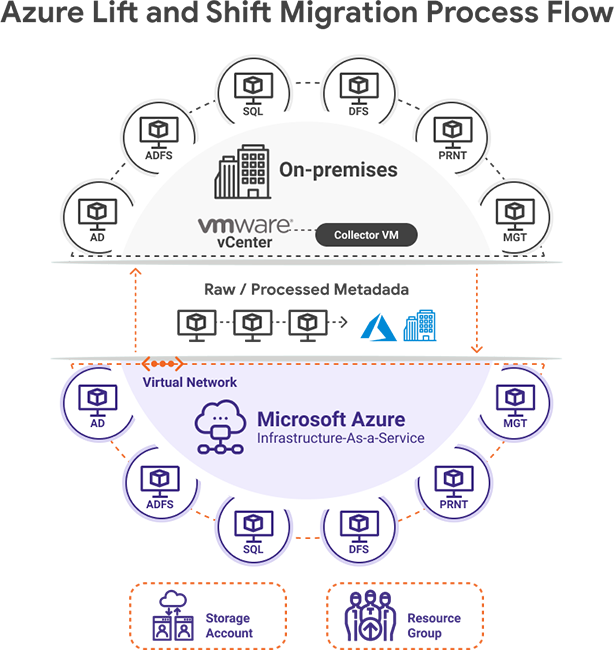 Azure Lift and Shift Migration with minimal business disruptions
Workload migration to cloud-based services can transform an organization's IT landscape, allowing it to take advantage of the cloud's scale and agility while converting CAPEX to OPEX. The "Lift & Shift" approach is one of the simplest and least expensive ways to migrate an existing workload to the cloud. It entails running the workload on cloud-native resources in its current state.
Azure Lift-and-Shift is much more than a "cut-and-paste" solution; it's often the first step toward digital transformation. Many businesses prefer to optimize their IT operations after they've moved to the cloud. This is due to the fact that migrating to Azure ensures continual access to the most cutting-edge cloud technology.
As a Microsoft Gold Partner, KCS has successfully implemented Lift and Shift migrations to the Azure cloud for clients in a variety of industries, including Hi-tech, finance, retail, mining, oil and gas, and healthcare, etc. Our engagement begins with an enterprise assessment and ends with the delivery of technology solutions, all while keeping innovation and scalability in mind.
What is Azure Lift and Shift Migration?
Lift and Shift migration refers to moving your application and related data to the cloud with few or no changes. Applications are "lifted" from their current surroundings and "shifted" to a new hosting location, i.e. the Azure cloud. As a result, there are usually no major changes to the application design, data flow, or authentication processes.
Want to know more about Lift and Shift Migration and its impact on business?
Talk to our experts for detailed Business Analysis.
Contact Us
Why do businesses need Azure Lift and Shift Migration?
Azure Lift-and-Shift allows businesses to keep their apps running with minimum modifications and downtime.
Minimal Disruption
Lift and Shift allows you to migrate fast without taking the help of a large team. During the migration, the on-premises application can be left running to guarantee that service is not disturbed and that users have the same experience.
Improved Performance
Lift and Shift enables applications to run on more recent, higher-performing hardware without the need to purchase it.
Scalability on Demand
Lift and Shift can let your company scale your app with more computing resources. To accommodate peak traffic periods, you won't need to overprovision hardware.
Enhanced Security
After being migrated to the cloud, legacy applications may be able to benefit from cloud security services such as role-based access control, multifactor authentication, and unified hybrid security processes.
Reduced Cost
The more applications you can move to the cloud, the faster you can reduce your on-premises infrastructure and management and maintenance costs.
Why KCS for Lift and Shift?
The application's computing, storage, and network requirements are the most important concerns in a Lift and Shift migration. They should be mapped from the existing state of source infrastructure to the cloud provider's equivalent resources. During the migration, over-provisioned on-premises resources can be assessed and mapped to optimal cloud resources, resulting in significant cost savings. As a Microsoft partner, KCS can assist businesses in completing their Lift and Shift migration process with low or no downtime, while saving money and improving security.
Get a free assessment of your IT landscape with the possible migration strategies.
Talk to our experts today.
Drop Us a Line