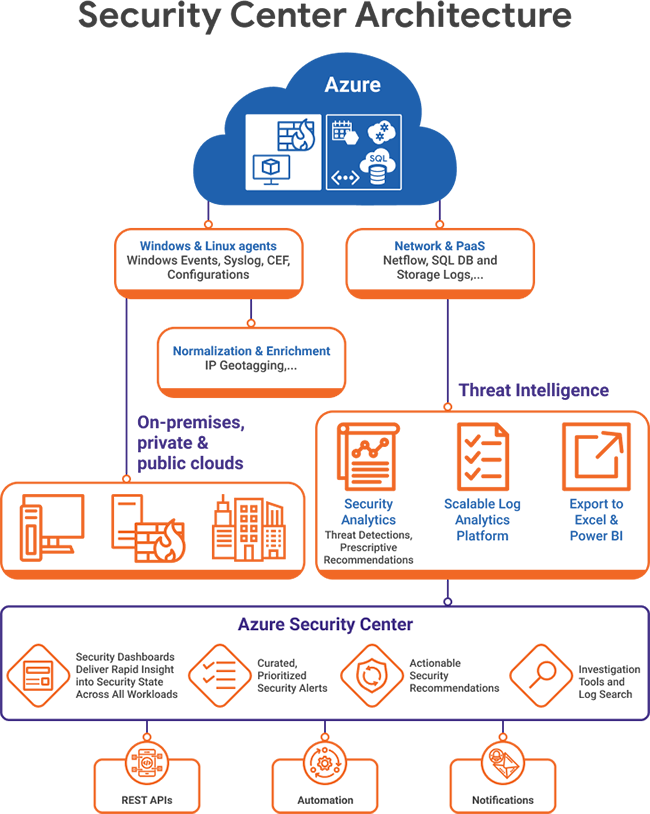 Strengthen cloud security posture with Azure Security Center to deliver continuous safety & compliance for the cloud
Microsoft Azure Security Center is a solution for unified security management across hybrid cloud workloads. It protects data centers from threats to both cloud and on-premises workloads. The platform is also compatible with hybrid cloud deployments outside of the Azure environment. As a Microsoft partner, KCS assists companies of all sizes in safeguarding their business-critical apps and data, residing in diverse IT landscapes, using the Azure Security Center.
With Azure Security Center, businesses and organizations can assess the security state of all their cloud resources, including servers, storage, networks, workloads, and applications that are running on-premises, in Azure or other clouds. It also allows them to visualize their security state and improve the security posture by using Azure Secure Score recommendations.
By centrally managing security rules in the Azure Security Compliance Center, enterprises may view their compliance against a wide range of regulatory standards or organizational security requirements. It also provides continuous assessment and generates comprehensive, actionable insights and reports to make compliance easier.
KCS provides unified security administration and enhanced threat prevention for hybrid cloud workloads, allowing businesses to focus on their core activities. Combining features like policy configuration, data collection, recommendations, and issuing alerts with our Microsoft Azure Security Center capabilities, we ensure continuous safety and compliance for the cloud environment.
Do you want to protect your hybrid workload against cyber threats?
Request a free assessment from our Microsoft Azure Security Center experts
Contact Us
KCS capabilities on Azure Security Center
As a certified Microsoft partner, we help our clients protect their hybrid workloads against security challenges that arise due to rapidly changing workloads, increasingly sophisticated attacks, and a short supply of security skills. Our team of Cloud Security experts leverage the various components of the Azure Security Center to deliver the best security solutions.
Compliance Management
Controls and evaluates high-level process containers that aid in the definition of compliance-related activities for an environment and a variety of regularly used regulatory and compliance standards
Advanced Threat Protection
Discover and recognize a suspicious user and device activity with learning-based analytics
Vulnerability Assessment
Tackling difficulties linked to continuously receiving, assessing, and acting on fresh information to identify and repair vulnerabilities while limiting attackers' window of opportunity
Azure Defender
A built-in utility that protects workloads in Azure, on-premises, and in other clouds from threats
Protection
Against Threats
As attackers reveal new and more complex exploits, Security Center can quickly upgrade its detection algorithms
Secure Score
To understand your present security position and to assist you in improving your security in a timely and effective manner
Azure DDoS Attack Protection
Provides real-time traffic monitoring and mitigation to protect against common network-layer attacks
Adaptive
Application Control
An intelligent and automated solution for defining allow lists of known-safe applications
Regulatory
Compliance Management
Based on regular evaluations of your Azure environment, visibility into your compliance position for a range of supported standards and regulations
Azure Sentinel
A cloud-native security information and event manager (SIEM) platform that gives a bird's eye view across the enterprise with built-in AI for quickly and cost-effectively analyzing huge volumes of data
Benefits of Azure Security Center
Helps strengthen the security posture of cloud workloads
Protects hybrid cloud workloads deployed in Azure and non-Azure environments
Efficiently streamline security management
Full visibility and control over the security of Azure resources (Cloud Services, Virtual Machines, Blob Storage, and Azure Virtual Networks)
Effectively detects and blocks cyber security threats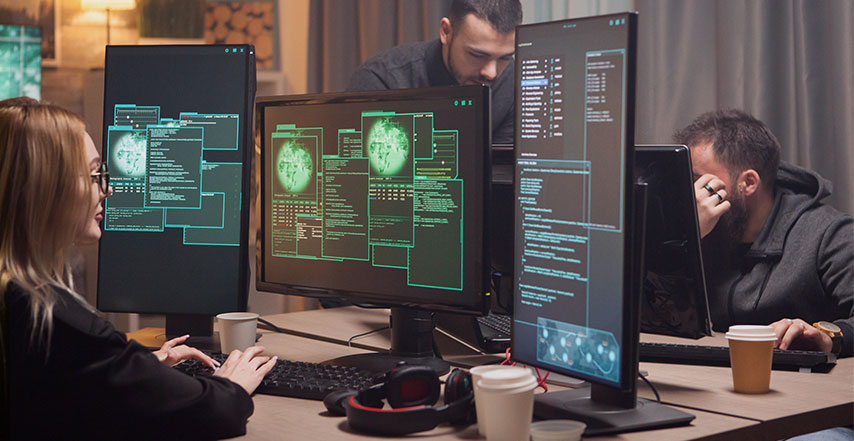 Azure Security Center can help assess and improve
Security posture
Compute & apps
Safe networking
Data security
Identity & access governance
Interested in Microsoft Azure Security Center?
KCS can help implement a robust security posture for your hybrid workloads.
Contact Us
Why businesses need the Azure Security Center
Ever-changing workloads:
The Azure Security Center makes it easier to adopt security standards and best practices consistently in continuously changing and hybrid workloads.
Increasingly sophisticated attacks:
Attacks are becoming more sophisticated as more customers move their workloads to the public cloud. It has become a necessity for businesses to safeguard their workloads by adopting the best security practices. On-premises and hybrid Azure Security Center can help improve security posture against such threats.
Need for specialized security skills:
Building an in-house team of experts on cloud security can be quite cost-inefficient for any organization and the dedicated team may still not be able to provide the breadth of knowledge and expertise required to combat all threats. Azure Security Center provides a complete set of tools and services for maintaining required level of threat protection, access management and security administration.
Azure Security Center services offered by KCS
Our Microsoft certified experts can help provide complete visibility into your security and governance postures across several standards and frameworks. Our Azure certified experts can also help in effectively detecting and blocking cyberattacks. KCS services focus on delivering an end-to-end security strategy. Our security services framework includes:
Security needs assessment
Objective-driven architecture design
Security posture and threat protection
Continuous monitoring and protection